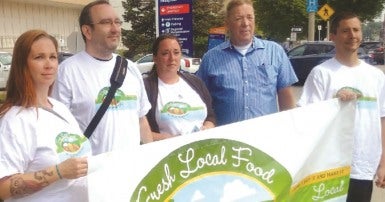 Stella Yeadon | CUPE Communications
There is little dispute that fresh, local food, cooked in the hospital kitchen is best for sick, vulnerable and convalescing patients. It's also best for the local economy when hospitals can source patient food from local growers and cook it from scratch in-house.
Several Ontario hospitals are doing just that; keeping it local. They've revamped their in-house kitchens and use more local food. Patient meals are more appetizing and less is left uneaten and thrown out.
Unfortunately one of Ontario's largest hospital networks – Hamilton Health Sciences (HHS) – plans to go in the opposite direction. HHS intends to close its in-house kitchens and buy plated, microwavable "TV dinner" style food from a factory operation.
 "Food is medicine. When a loved one is sick, we cook nutrient-rich dishes for them. We don't give them a microwavable TV dinner. So why would we give this type of factory food to our patients?", said Dave Murphy, the president of CUPE 7800, representing nearly 4000 hospital staff at HHS. The CUPE local recently mobilized a community-based campaign to not only keep the hospital kitchens cooking, but to also improve the overall quality of patient meals.
"We are working with local farmers and community leaders promoting a local patient food solution at our hospital," said Murphy.