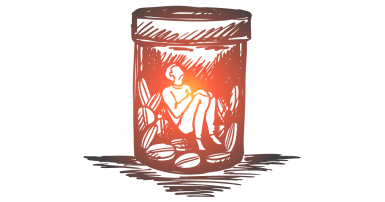 The federal government is considering a Social Impact Bond (SIB) to address the opioid crisis. This would allow private investors to profit from the health care and social services necessary to address this national health crisis.
SIBs are a new form of privatization being promoted by the federal government. Under a SIB, investors provide up-front financing for public programs. If certain outcomes are met, the government pays investors for the initial program cost, plus a profit.
According to a report from the Canadian Press based on documents obtained through Access to Information requests, Health Canada is considering a SIB to reduce dependence on opioids, improve health and reduce deaths from overdoses. The Centre for Addiction and Mental Health in Toronto and the MaRS Centre for Impact Investing, a privatization consultant, applied for funding and provided a discussion paper that proposed running a four-year study to test ways to treat opioid use.
SIBs limit access to services
SIBs can affect people who use public services in several ways. There is an incentive to "cherry pick" individuals whose needs are less severe in order to maximize positive outcomes and trigger investor pay outs. This leaves individuals with more complex needs without access to services.
In addition, SIBs can bias programs toward achieving outcomes that are simplistic and easy to evaluate. In reality, programs addressing complex issues like the opioid crisis require multi-faceted and comprehensive evaluation measures. As noted in the access to information documents, it would be difficult to tie outcomes to "a standard, linear process" for recovery tied to reduced opioid-related deaths. This is because the severity of opioid dependence may decrease but "an accidental overdose" can happen at any time.   
Urgent need for public funding
CUPE has been calling for increased public funding to address the opioid crisis. The need for funding is urgent. Austerity and privatization agendas across the country are driving significant cuts to public services like health care, social services and education.
The federal government should support innovative and evidence-based approaches to the opioid crisis such as supervised consumption sites, improved access to recovery and rehabilitation facilities, and decriminalization. These supports must be delivered by public and non-profit service providers. A broad and well-funded network of public services is best placed to foster social innovation, provide good jobs, and genuinely involve those using the programs. There is nothing innovative about allowing investors to profit from the opioid crisis.
For more on the opioid crisis, check out our special issue of Counterpoint.