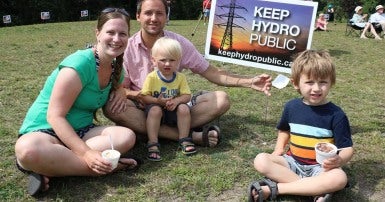 The report by Ontario's Financial Accountability Officer (FAO) proves what the people of Ontario have always known, that the sale of Hydro One is bad for the province, says Fred Hahn, President of CUPE Ontario.
The report uncovered that though the sale of 53 per cent of the shares in Hydro One brought in $9.2 billion in one-time cash, that money only improves government revenue until the end of this fiscal year.
The loss of the ongoing revenue from the sold off shares, and the end of annual payments-in-lieu of taxes, means that beginning in 2018‑19 the government will lose $1.1 billion in revenue and that will continue to deteriorate by hundreds of millions more each year from 2019 to 2025.
"The Liberals designed the sale of Hydro One so that voters see what appear to be positive numbers before the election and don't see the real financial losses until later," says Hahn. "It's a classic bait and switch and voters are going to be fooled.
"Rather than funding infrastructure through low interest loans the way our parents and grandparents' generations did, the Wynne government has chosen to make our children and grandchildren pay more. That's what privatization does." he says.
Had the province issued traditional debt to fund an identical amount of infrastructure investment, rather than selling Hydro One, the long-term provincial net debt would be lower within ten years.
"Today the FAO showed unequivocally that the sale of Hydro One is bad for the people of Ontario. What this report doesn't include is the further devastation the sell-off of Hydro One will have on the people and businesses of this province," he says. "The loss of control over our hydro system and the growing need for corporate profits means we will all be paying for their mistake for years to come. We won't stop fighting until our hydro system is back under public control."
Fred Hahn is one of the plaintiffs in the lawsuit against the Premier and Ministers of Finance and Energy over the sale of Hydro One which will be back in court on March 19, 2018.