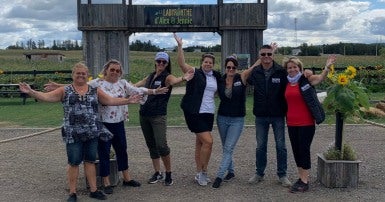 Hundreds of white-collar workers with the Town of Saguenay and their families gathered at Aux Jardins d'Alex et Jennie to reaffirm their solidarity with their bargaining committee. More than 96% of the CUPE 2466 membership voted for strike action last June.
"We're more mobilized than ever! The white-collar workers work behind the scenes to provide important services to citizens. We will not agree to scaling back our working conditions, but unfortunately, that is what the town has been proposing. We demand and expect more respect!" said union president Stéphanie Cloutier.
The parties will be returning to the bargaining table starting next week. The union is hoping to reach a win-win agreement quickly, as the effects of the labour shortage are being felt. Historically, the Town of Saguenay has been seen as very attractive by workers.
"Such is no longer the case. The Town of Saguenay, as an employer, has not been spared the difficulties of recruiting and retaining workers. Of course, we are concerned about our working conditions, but we're also concerned about the services the public is receiving," added Cloutier.
In addition to pressure tactics, if no headway is made during talks, the union plans to put the negotiations of their collective agreement at the heart of issues to be debated during the municipal elections in November.
Si on n'était pas là… (If we weren't there…)
The "Si on n'était pas là…" slogan was adopted by the white-collar campaign in Saguenay. Several services provided by the town would be at risk if indeed the white-collar workers were not there.
"The campaign will be continuing in the coming months. We'll continue to make ourselves known and seen in various ways, because ultimately, we want to be heard at the bargaining table," said Cloutier.