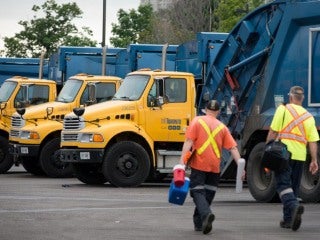 Toronto's publicly-delivered solid waste service works well. In-house delivery is our best bet for quality service that meets resident's needs and puts us on track to meet the city's long-term waste diversion targets. Public solid waste services are efficient, reliable, transparent and responsive. Let's protect and expand a model that works.
Public delivers better service
City workers aim to provide the highest level of solid waste service possible – and it shows. Satisfaction with publicly-delivered services in Districts 3 and 4 is high and continues to grow. In contrast, complaints are on the rise for privatized services in Districts 1 and 2. 
Complaint data from the first quarters of 2013 and 2014 shows public solid waste workers are making strides in improving services.  There's been a dramatic improvement in District 4, where complaints were more than halved between 2013 and 2014, with 63 per cent fewer complaints for the district. During the same period, complaints fell more than 7 per cent in District 3.
At the same time, there's been a rapid decline in privatized services. Complaints about GFL more than doubled in District 2, rising 117 per cent, while complaints about GFL in District 1 increased by nearly 56 per cent.
Nearly two thirds, or 64 per cent, of citywide complaints for the first three months of 2014 were about GFL service in Districts 1 and 2.
Environmental leadership
Toronto can and must do more to meet and surpass our goal of diverting 70 per cent of the city's waste away from landfills. Publicly-delivered services give the city the control and flexibility needed to set and meet high standards, as well as introduce new programs.
The city directly oversees its own staff, ensuring construction waste, hazardous materials and bulky items don't end up in landfills. The rules about what can be picked up at the curb are enforced at municipally-run transfer stations. We don't have the same oversight and scrutiny of privately-run transfer stations. Private operators get paid by the ton, no matter which stream the waste goes into. That leaves little incentive to divert waste away from landfills to be recycled or composted.
Privatized collection forces municipalities to rely on costly and resource-intensive oversight. The Toronto Environmental Alliance has documented problems with private waste contracts in Toronto and the GTA, highlighting an ongoing lax approach to monitoring and enforcement. A 2011 TEA study concluded that "significant evidence exists that waste diversion has been jeopardized by private waste collectors."
The same study warned that proper monitoring of a privatized solid waste contract costs about 20 per cent of the contract value. This adds significantly to the true costs of contracting out. The city hasn't disclosed important information about contract oversight in District 1. The city auditor general's review of District 2 found the city was spending $700,000 a year on contract monitoring and enforcement – far below the 20 per cent minimum set out in TEA's report.
Solid waste workers and their union, CUPE 416, have consistently advocated for environmentally-responsible solid waste programs. CUPE helped initiate the city's blue box program in the late 1980s. In 2000, CUPE worked with the Toronto Environmental Alliance and the Toronto and York Region Labour Council to pave the way for the ground-breaking green bin program, one of North America's first curbside organics pickups.
We've reached a diversion rate of 67.6 per cent for single family homes. But the city's overall rate is stuck at around 50 per cent. CUPE is proposing to change this by expanding public solid waste to increase organics composting in apartment buildings and condos, as well as improving recycling in industrial, commercial and institutional settings.
Accountable and transparent
Toronto's publicly-delivered solid waste services have clear lines of accountability, and direct reporting requirements. Privatization can blur these lines, leaving unanswered questions about the ability of solid waste contractors to meet the terms of their contract.
Documents obtained through freedom of information reveal that GFL has regularly fallen short of its contract obligations to complete collection by 6 p.m.. This deadline is already an hour later than the Municipal Code allows for in-house collection, which suggests negotiators acknowledged up front that the contractor can't deliver as efficiently as the public sector.
Between May 2012 and January 2013, GFL trucks were on the road after 6 p.m. 1,419 times, and couldn't match the legislated 5 p.m. end time for in-house service 2,800 times.  This adds to rush-hour congestion and puts safety at risk, as pickups are made in the dark
What's not known is how the city has dealt with this problem. If GFL was fined for each of the 1,419 violations, it would owe the city more than $200,000. This and all other relevant contract information should be publicly available – not the subject of freedom of information requests.
Much-needed good jobs
Collecting the city's garbage, recycling and organics is dirty, dangerous and physically demanding work. Workers are on the job in extreme weather conditions. The people doing this work deserve to be fairly paid, and to have excellent supports and benefits.
Contracting out the rest of the city's solid waste services will ultimately eliminate 400 good, family-supporting jobs. It will also mean lower wages and less security for contractors providing the service. The city needs to be a leader in creating and maintaining good jobs – not a part of the race to the bottom.
Committed to excellence
CUPE 416 solid waste workers are on-the-ground experts. Many have decades of service. They see what gets put out at the curb each week, and have insider knowledge on how to improve services. City workers are proud to provide a service that is essential to public health and community well-being.
In the past two years, the city has successfully worked with CUPE to streamline solid waste services by reorganizing routes and restructuring hours of work. Let's build on this base of knowledge and expertise.
Shrinking savings
Much-reported claims of $11 million in annual savings for District 2 do not stand up to scrutiny. The February 2014 Auditor General's report on District 2 costs uses an inappropriate benchmark that inflates the cost difference between in-house and privatized collection. The Auditor uses the city's 2011 collection costs as a baseline. This figure is higher than the more appropriate comparator - the maximum contract cost set out in the city's request for qualifications for the collection contract.
To get a more accurate picture of costs, CUPE 416 has obtained and analyzed actual invoices from the first year of contracted-out collection in District 2. The total cost of contracted-out services from August 2012 to September 2013, compared with the city's maximum contract cost as set out in the RFQ, reveals a difference of approximately $6.4 million. This means actual savings are not only about half of what was promised, but also leave a very thin margin for inevitable cost escalation over time.
The Auditor General did identify significant gaps in reporting and oversight, and the need for stepped-up inspection. Using TEA's estimate that adequate monitoring costs about  20 per cent of the total contract value, any purported savings shrink dramatically to just $2.5 million.
The Public Works and Infrastructure Committee has asked for two reports – one from city staff and another from a third party.  These reports will re-examine various costs, including collection, human resource, and capital expenditures. It is anticipated that by factoring in these costs, the reports will further reduce savings.
The high cost of low bids
Low bids can have a high long-term cost. An artificially low bid may look good on paper. But often costs rise over time – whether for enforcement, or for additional charges to expand or improve service.
Contracting out all of Toronto's solid waste services leaves the city with few options to take the work back if things go wrong. Once the city sells off its fleet and other assets, the costs of bringing the work back in-house skyrockets. We'll be dependent on private contractors. Along with the loss of in-house expertise, this severely diminishes the city's power to negotiate with a powerful group of waste corporations.
More study is needed, and more time must pass, before the city can fully evaluate the consequences of contracting out solid waste east of Yonge Street.