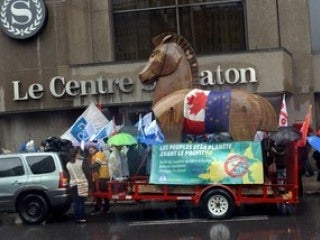 A Trojan horse greets Philippe Couillard at the Sheraton
Members of the Réseau québécois sur l'Intégration continentale (RQIC) and allied organizations, including CUPE, demonstrated Monday at the Sheraton Centre in Montreal in anticipation of the arrival of Premier Couillard. He was coming to address the Quebec Employers Council just weeks after bringing in his austerity budget.
The demonstrators pushed a Trojan horse five meters in front of the Sheraton to send a message that free trade and austerity have serious hidden threats.
With this citizen action, the RQIC and its allies joined the Global Day of Action to Defeat Free Trade and Investment Treaties held on and around April 18, 2015. More than 700 activities around the world denounced an economic model that does not work for 99% of the population. With one voice, social movements opposed the excessive powers granted to transnational corporations by free trade agreements, such as the transatlantic agreement with the European Union (CETA), the Trans-Pacific Partnership (TPP) and the General Agreement on Trade in Services (GATS).
"CETA is an open door to the privatization of public services in cities and municipalities, the health system and education. From the moment a service is privatized, there is no turning back because this is what is provided in the agreement that our Conservative federal and Liberal provincial representatives have signed," said Lucie Levasseur, President of CUPE-Québec and Vice President of the FTQ.
Combined with the current austerity policies, free trade threatens large parts of Quebec's development model for public services, access to drugs, agricultural sovereignty, local development, quality job creation and environmental protection. It is time to get out of it and find a new paradigm that puts the economy at the service of the people. Quebec social groups denounce the Couillard government for sacrificing, on the altar of the crazy logic of the "free market", the sovereign capacity of the state to serve the public interest.