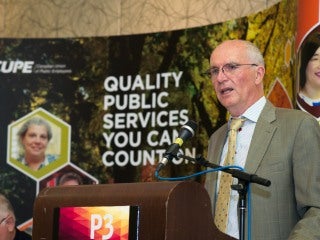 Speakers at a CUPE symposium on privatization drew on a wide range of Canadian and international evidence to reach a clear conclusion: privatizing seniors' homes in Newfoundland and Labrador makes no economic sense, and puts vulnerable seniors at risk.
The symposium took place on the eve of the annual gathering of Canada's premiers, being held this year in St. John's. It drew a diverse crowd of advocates, elected officials, policy-makers and concerned citizens.
View photos on Facebook
The provincial Conservative government is pushing to lock in a 25-year contract for four private long-term care facilities. The public-private partnership (P3) project was unveiled on June 30, and is being rushed through before the coming election. A contract could be signed by early October.
CUPE Newfoundland and Labrador Division President Wayne Lucas criticized the rush to privatize, and issued a challenge to the Conservative government: "Put it on the ballot, Premier Davis."
Privatized seniors' care will be an issue on the doorstep, said CUPE National President Paul Moist. "We will be in every community in this province between now and the election saying no to private long term care."
Melissa Newitt connected the dots between the care her grandmother was receiving in an Ontario facility, and the dangers of privatized care. "Caring for our elderly loved ones and making a profit are necessarily in opposition," said Newitt, interim national coordinator of the Canadian Health Coalition.
She outlined how for-profit care costs more, delivers less care, and is linked to overall worse health including higher hospitalization rates and overuse of anti-depressant and anti-psychotic medication.
"This becomes a moral and ethical issue," said Newitt. "Canadians value health care. They see it as an equity and justice issue. It's a Canadian value. We're going against that Canadian value with P3s."
Speaking up on this issue is also about standing up for vulnerable seniors, said Council of Canadians board member Ken Kavanagh.
While he and his siblings can advocate for their mother, who is in a long-term care facility, "many residents don't have any family. They need you and me, and organizations like CUPE, making sure that they have a voice."
Moist made the links between P3s emerging in Newfoundland and Labrador, and nine years of a federal Conservative government. Since 2006, the Harper government has pushed privatization through a dedicated P3 agency that subsidizes the schemes, as well as by forcing projects worth more than $100 million to be reviewed for P3 eligibility.
"This has little to do with numbers, and a lot to do with politics," said Moist.
But municipal and provincial governments "do not want to be dictated to" said Moist. "We need to support elected officials taking a stand as an autonomous level of government, and not being dictated to about how to build their infrastructure."
The details of P3 deals are kept under close wraps, creating what economist Hugh Mackenzie called a "fact-free zone." Time after time, Mackenzie's requests for information on P3 projects have been met with heavily blacked-out documents that leave the public in the dark.
Mackenzie outlined the clear economic advantages of keeping infrastructure public, including that governments can borrow at lower cost – and are better-placed to manage the potential risks of building a facility – than corporations.
Mackenzie and lawyer Steven Shrybman both detailed the high fees charged by consultants, financiers, lawyers and other players in P3 deals – and the desire to avoid liability. "If there are any risks, the lawyers are working to protect their client from being responsible for it," said Shrybman.
CUPE Economist Toby Sanger highlighted how the higher costs of P3s threatens clinical care budgets through the example of a P3 hospital in North Bay, Ontario, where private financing is costing an extra $7 million a year. Since the hospital opened four years ago, 50 beds have been cut and more than 100 jobs have been eliminated.
"This is why we're opposed to P3s. Because they're going to cut into the budgets for public services," said Sanger, who also pointed to the Ontario auditor general's recent damning review of the province's P3 program.
Kavanagh contrasted the government's responsibility to protect the public interest with its hasty privatization plans.
"There's no mandate to do this, no warning, and no dialogue. This from a government that touts the idea of open government. We need to create more of a public debate about this. They've told us many lies before. P3s are a lie and we need to call them on it," said Kavanagh.