More than 500 labour and social activists from across Canada are taking part in CUPE's National Human Rights Conference in Winnipeg. On the conferences third day, participants dove into how to achieve greater equality at the bargaining table, and through political action.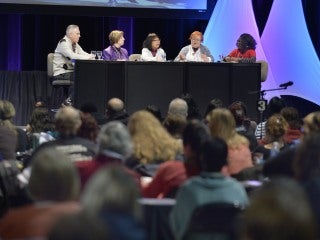 Bargaining equality:
CUPE

's opportunity at the table

Susan Fisher talked about BC's Hospital Employees Union minimum wage campaign. After achieving some gains at the bargaining table, HEU launched a public campaign to fight for a living wage. Their message is that work should lift you out of poverty, not put you there.

Helen Fetterly, a registered practical nurse and secretary-treasurer of the Ontario Council of Hospital Unions, talked about their campaign to encourage part-time workers to enroll in their pension plan. Since 2007, more than 46,720 part-time employees have joined the plan.
Cora Mojica, an HEU member, shared her experience about bargaining a first contract with Sodexo. She described how they built solidarity and trust one conversation at a time. After a 52 day strike, they were able to get a first contract.
Xolisiwe Connie Ndlovu from CUPE 4308, shared her experience as a home care worker in Toronto. She said home care workers are some of the most exploited workers in health care. Her local successfully bargained a pension plan.
Winning equality through political action
A dynamic panel of politicians reflected on how they came to be activists.
Spencer Chandra Herbert, a BC MLA, said even as a child he could see discrimination in the way his friends and classmates were treated.
"And I learned as a young activist that showing up makes a difference," said Chandra Hebert, a strong advocate for equality rights who has introduced legislation to ensure transgender people are protected in B.C.'s Human Rights Code.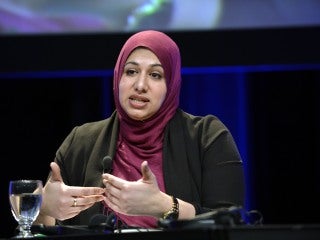 Ausma Malik, a trustee with the Toronto School Board, reflected on the racism and Islamophobic attacks she experience while campaigning.
"As a woman, racialized person and person of faith, I knew it would be tough," said Malik. "What I didn't know is that we would face a well-coordinated, well-funded campaign of hate, lies and innuendo."
Malik sees her election victory as a sign of hope and is optimistic about building an inclusive public education system that can be a true equalizer.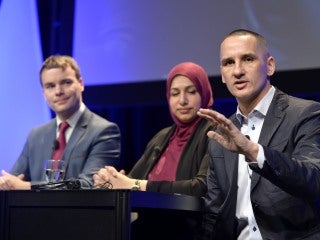 Kevin Chief, Minister for Jobs and the Economy in Manitoba, represents an area as an NDP MLA with the lowest income in the country. He challenged conference participants to think about how to genuinely engage people in the political process.
"Don't tell young people you are leaders of tomorrow…tell them they are leaders of today," said Chief.
Panel host Archana Rampure, political action coordinator for CUPE, challenged delegates to reflect on these stories when they go to vote, and to put their support behind the NDP – the only party that reflects our values.
As one delegate put it: "I urge every member in this room to stand up and be counted. Let's give Harper his walking papers."