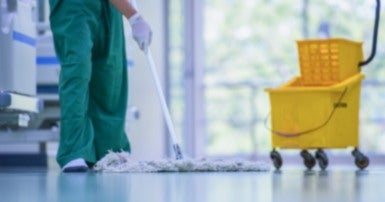 An important research project is being launched this week to explore psychological distress experienced by environmental service workers (ESW) – sometimes known as housekeeping staff – in acute care during the COVID-19 pandemic.
CUPE is a partner in this research project with COVIDEM, and we encourage our members who are environmental service workers to participate.
COVIDEM is a pan-Canadian research project funded by the Canadian Institutes of Health Research (CIHR).
Environmental support workers, many of whom are members of CUPE, put themselves at risk and work tirelessly to ensure the safety of all patients and hospital staff. However, their work responsibilities can cause the ESWs to experience heightened psychological stress, or distress.
The research results of the survey will be made available to CUPE. CUPE will be able to use this information in our promotion of better compensation for work in the sector and for future bargaining with employers.
The survey is anonymous and confidential.
To fill out the survey, click here.
If you have any question related to this project, please contact: covidem@montfort.on.ca