In Quebec City, CUPE held a carbon neutral national convention for the second time. 2011 convention in Van­couver was the first carbon neutral CUPE event of any scale. 2013 conven­tion was also carbon neutral thanks to CUPE partnering with CarbonZero, an environmental offsetting company.
Emissions from convention were quan­tified from all delegate, staff and guest travel, electricity consumption during the event, convention waste, paper use and exhibitors in the CUPE Village. Post-convention, CUPE will fully offset all of the carbon generated by conven­tion at a price of $20 per tonne.
CUPE continued to lower other environmental impacts of convention by, for example, cutting back on con­ference kit materials, making paper documents on convention floor optional (which greatly reduced the amount of paper used), only providing munici­pal tap water on the convention floor, encouraging delegates to walk while in Quebec City and having the vast major­ity of national staff travel to and from Quebec City by train, which is much less energy-intensive than flying.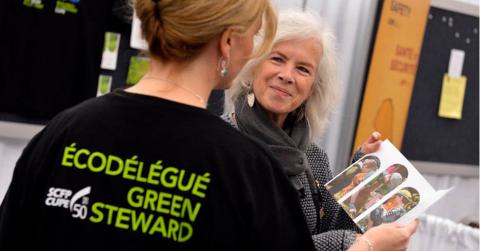 Green Stewards at Convention
CUPE ran a green stewards program for the first time at 2013 National Convention in Quebec City. Green Stewards worked to encourage convention delegates and guests to lower their environmental impact while at convention.
For example, stew­ards urged delegates and guests to walk rather than take taxis, to conserve energy, recycle and compost properly, drink only municipal tap water and take advantage of the convention cen­tre's environmental features, such as water-conserving washroom taps.
Stewards also introduced delegates and guests to CUPE's new environmental policy. The program was a big success and helped raise environmental consciousness at CUPE's largest national event.
Kitchen-table discussion
A kitchen-table discussion on environmental issues was part of the expanded environmental program at 2013 National con­vention. For the first time, delegates got together to discuss the environment, with a particular focus on how to implement CUPE's new national environment policy.
Resolutions: No time for fracking around!
Two resolutions with environmental implications were adopted at convention. The first – resolution 127 – called on CUPE to continue to be a leader on working collaboratively with environ­mental, social justice and Aboriginal groups to address the climate crisis. The second resolution called for CUPE to support groups – particularly Aboriginal groups – that oppose shale gas fracking, due to its negative environmental and health impacts.