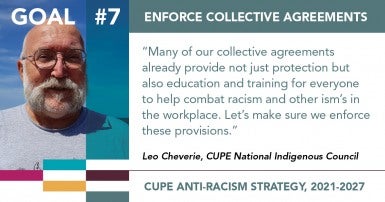 "I believe it is fundamental for all CUPE members to have their human rights protected and enhanced through our collective agreements, and that includes taking an anti-racist, anti-discrimination, and anti-homophobic approach to enforcing collective agreements. Many of our collective agreements already provide not just protection but also education and training for everyone to help combat racism and other ism's in the workplace. Let's make sure we enforce these provisions." - Leo Cheverie, CUPE National Indigenous Council
In a lot of cases, the tools we need to fight racism and discrimination in the workplace are already in our toolbox. We just need to rethink how we use them.
That's why, as part of our new Anti-Racism Strategy, CUPE is committing to administering and enforcing our collective agreements with an anti-racist approach.
Far too often, Black, Indigenous and racialized workers are told they are overreacting or misinterpreting racist behaviour and practices at work, and they fear their union may not support them if they come forward.
We need to change these myths and start acknowledging racism is real.
Knowing that the union is ready and equipped to take on racism is key to empowering Black, Indigenous, and racialized members to come forward with their experiences of workplace racism. Our leaders need to know how to use every option in our collective agreements to support CUPE members who experience the incredibly hurtful and often traumatic effects of racism, microaggressions and gaslighting that have detrimental psychological and physical impacts.
How will this work?
Training local executives, shop stewards, and staff on identifying and understanding how systemic racism functions in the workplace, union, and community is essential. It is equally important to highlight the fact that racism in all its forms is a health and safety issue.
Grievances should be filed as soon as a Black, Indigenous or racialized worker encounters racial discrimination and harassment at work, and should also be referred to joint health and safety committees. CUPE should also develop a central system for tracking these grievances in order to tackle the problem in a systemic manner.
And that's just a start.
Between now and our National Convention in November, ask what actions you and your Local can take to bring a stronger anti-racist approach to enforcing your collective agreement.
This is the seventh in a series of ten features profiling the goals of CUPE's Anti-Racism Strategy. Read the full series here.