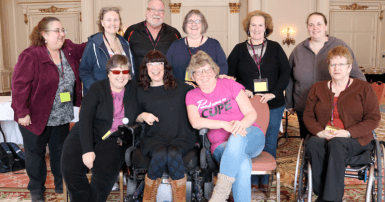 The rights of people with disabilities deserve to be honoured, just like everyone else's.
That's why CUPE marks the International Day of Persons with Disabilities every December 3. On this day, we draw attention to the ongoing challenge of ableism in our workplaces and communities, and we reaffirm our commitment to a disability rights agenda.
People with disabilities experience higher rates of poverty, unemployment, discrimination, incarceration, harassment, mental health and violence. Those further marginalized by racism, sexism, homophobia or transphobia face additional barriers and harm. This is unacceptable.
Sadly, as a society, we continue to create social, physical and economic environments that fail to take into account the needs of people with disabilities. This means too many of our friends, sisters and brothers continue to be excluded. As a union, we can help dismantle those systems of exclusion.
CUPE's 2017-2019 Strategic Directions commits our union to advocating for the rights of all people with disabilities in Canada to have decent, meaningful and fairly-paid work.
You can act in solidarity to advance disability rights:
Call your Member of Parliament and ask them to support ending discrimination against people with disabilities. Section 38(1)(c) of the Immigration and Refugee Protection Act excludes people with disabilities, including people living with HIV, and some trans people, from Canada. It allows for an applicant to be rejected if they or their family member "might reasonably be expected to cause excessive demand on health or social services."
Read CUPE's submission on federal accessibility legislation. The federal government is expected to release legislation early in 2018. CUPE is calling for proactive, comprehensive legislation which prioritizes public services and good jobs for persons with disabilities.
As union leaders, we also encourage you to:
Bargain disability rights into your collective agreement, including: employment equity, duty to accommodate, HIV/AIDS and episodic disability accommodation language, short and long-term disability coverage and other rights.
Work with your health and safety committee to create an accessibility audit checklist to ensure your workplace and union space is accessible for all.
Continue to educate yourself by registering and participating in CUPE workshops on disability issues.
Welcome and encourage members with disabilities to become involved in union leadership and activities.
CUPE has been a union leader on disability rights and represents advocacy and service agency workers. We bring a lot of valuable experience to bear on this work, and we encourage you to draw on that experience as we play our part in creating a society that truly enables all its members.