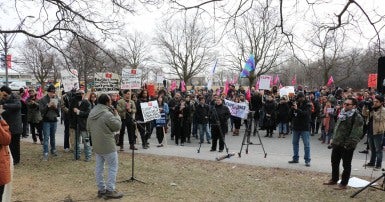 As York University management continue to rebuff attempts to get them to resume collective bargaining, striking academic workers today established picket lines around the campus.
"Our members spoke very clearly on Friday when they turned down York's last offer. That result made it obvious more work needed to be done and our bargaining team is ready to finish the job, but we can't do it alone," said Devin Lefebvre, Chairperson of Local 3903 of the Canadian Union of Public Employees (CUPE 3903), which represents about 3,000 graduate assistants, teaching assistants and contract faculty at York University.
"York needs to come back to the bargaining table and work with us to resolve the outstanding issues between the parties," he added.
Units 1, 2, and 3 of CUPE 3903 commenced strike action yesterday morning with a mass rally out front of the York University main entrance. Picketers will be allowing traffic into and out of the campus, but Lefebvre cautioned that there will be delays.
"We apologize in advance for any inconvenience this may cause, but York's refusal to resume bargaining has left us with no other alternative," he said.
CUPE 3903 members deliver 60 per cent of the classroom and lab instruction at York University. For six months, the union has been trying to negotiate a fair collective agreement that addresses precarious, unstable, insecure employment, sexual violence on campus, and restoring the benefits of union membership to more than 700 graduate students York excluded from CUPE 3903 following the last round of collective bargaining.
Lefebvre urged students to contact York University administration to spur a resumption of bargaining.
"The place to resolve this dispute is at the bargaining table, and our team is ready and available to meet on short notice, but York needs to be across the table for that to happen," he said.