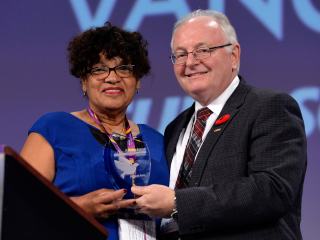 The Ed Blackman award is a new award for CUPE members who have strengthened the labour movement by demonstrating commitment to activism on social and racial justice, and fighting to dismantle barriers to greater participation for workers of colour in our union.
Elizabeth Paris from CUPE 2330 in Nova Scotia exemplifies those qualities.
"It is history in the making as this award is the first of its kinds in CUPE," said Paris giving tribute to Brother Blackman and other activists who came before. "I've had the privilege to work with brother Blackman who not only believed in social justice but equality for all."
A long-standing member of the CUPE National Rainbow Committee, Paris also worked to establish the CUPE Nova Scotia Human Rights Committee, and is currently the equity vice-president for CUPE Nova Scotia and steward and area vice-president of CUPE 2330.
In the community, Paris won the seat of African Nova Scotia School Board Representative and has been Chairperson of the African Nova Scotia Community Development Association and Chairperson of the Black Education Association.
"A natural rainbow while beautiful is a mirage," said Paris, sharing an anecdote from Brother Blackman, "but the CUPE rainbow is an unbreakable force."
Paris is an example of how union activism bridges with community activism, and her work both within and outside of CUPE has changed many lives for the better.