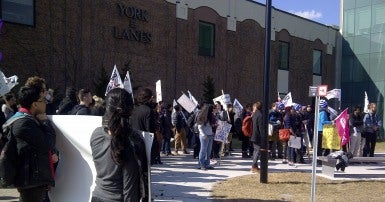 Following five months of fruitless negotiations, Contract Faculty, Teaching Assistants, and Graduate Assistants at York University rallied for a fair deal today with campus and community allies in York University's Vari Hall.
These education workers are members of CUPE 3903. Their contract expired on August 31, 2017.
With a strike deadline of March 5 looming, CUPE 3903 is calling for public support for a fair deal.
"The bargaining team had remained optimistic that we would see real movement on the key issues," says Lina Nasr, CUPE 3903 bargaining team spokesperson. "Unfortunately, we haven't seen any substantive movement from York U in a long time This week is York's last chance to work constructively with us, acknowledging that we are an important part of the university community."
The York University administration has been unresponsive on issues of job security for Contract Faculty, protecting funding for Teaching Assistants, and maintaining employment levels for Graduate Assistants. The parties have been meeting with the assistance of a Ministry of Labour-appointed conciliator since January 8.
"A lockout or strike is the last thing we want," says Devin Lefebvre, CUPE 3903 Chairperson, "but it seems more likely given that York's position has remained largely unchanged for several months. There's still time to reach a deal."