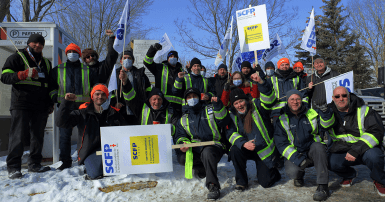 Approximately 60 specialized workers at the Centre intégré universitaire de santé et de services sociaux (CIUSSS) de l'Ouest-de-l'Île-de-Montréal, as well as many other employees who support their cause, demonstrated their anger loud and clear during a demonstration in front of the offices of the Douglas Mental Health University Institute in Montreal.
The members denounced the CAQ government's refusal to grant them a $1,000 premium called for in a ministerial decree as part of the fight against COVID-19. This premium is paid to almost all staff working in the Quebec health care system.
CUPE 2881 has been quite vocal in its demands to have this ministerial decree amended so that this premium is paid to the all-too-often forgotten employees who work behind the scenes at the very heart of the health care system and perform indispensable tasks to ensure the welfare of patients and staff.
"The government must change its tune and give the public sector specialized workers this much deserved premium," insisted Jonathan Deschamps, president of CUPE 2881.
Moreover, it is important to point out that, according to the Institut de la statistique du Québec, there is more than a 30 per cent shortfall between what these workers are being paid and what their private sector colleagues are earning.
The some 7,000 specialized workers employed in the Quebec public sector institutions include electricians, plumbers, mechanics and refrigeration technicians, among others.