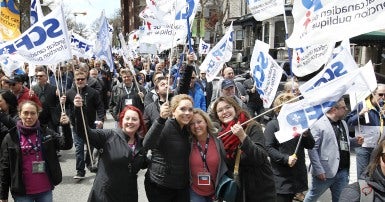 Hundreds of people gathered in front of the National Assembly to remind the CAQ government that Quebeckers want to hang on to their public services.
"The threat posed by a wave of privatization is very real. Whether it's the privatization of the SAQ, or the Maisons des aînés (houses for seniors) being operated by the private sector or REM extensions funded by our pension plans, there is no shortage of privatization projects formulated by the CAQ. In view of this, the government currently has not shown itself to be particularly ideological, so we want to get this message across to them before it's too late," said Denis Bolduc, the President of CUPE-Quebec.
Public services are the only way of reducing salary inequities, guaranteeing fair access for everyone and protecting the public from decisions based on the quest for profit instead of the needs and security of all Quebeckers.
"The Quebec model is based on public services. They're the reason why we are collectively better off and live in a fairer society. We want a society where we take care of one another," concluded Denis Bolduc.
Photo: Annie T. Roussel