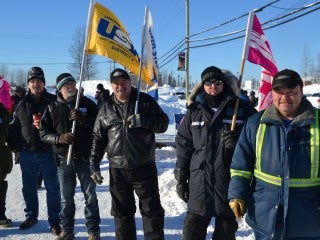 HAPPY VALLEY-GOOSE BAY – After being locked out for four weeks and two days, 43 members of CUPE Local 2019 have protected their Defined Benefit pension plan, won a fair wage increase and a signing bonus.
CUPE National Representative Ed White says, "From the outset, we knew there was a pension solution that did not include moving to a divisive, two-tiered plan and I am very pleased to say we were able to achieve that. With these negotiated changes, this pension plan is sustainable well into the future."
White says the deal contains an 11.5% wage increase over three years (5%, 4% and 2.5%) and a $1,000 signing bonus.
CUPE Local 2019 President Glen Pittman says, "I am so proud of each and every one of my members. We stood shoulder to shoulder, union Brothers and Sisters, in some very harsh weather and fought back this concession. I'm also proud to say we didn't have one single incident on our picket lines. That speaks volumes for the character of these men and women.
"I also want to thank the community and our families for the incredible support and patience they have shown throughout this dispute. I believe it was this heartfelt support that allowed us to stay united for four-plus weeks," says Pittman.
CUPE NL President Wayne Lucas says, "When the labour history books are written, these workers will be known as the little local that could!
"Strong leadership combined with a determined membership is a winning formula in the labour movement. What a great example of a fight-back campaign that we now have for CUPE's 3,000 locals across the country."