In 2015, CUPE helped break new legal ground for workers. We collaborated with other unions, helping to persuade the Supreme Court of Canada to finally recognize our constitutional right to strike. CUPE played an important role in the Saskatchewan Federation of Labour case challenging a provincial law that unjustly limited the ability of public sector workers to strike.
Canadian workers now have a constitutionally-protected right to strike. 
The freedom to associate for other purposes has always been protected by the Charter of Rights. But court rulings have excluded important labour rights – like striking – from Charter protection.
Canadian workers now have a constitutionally-protected right to strike, or to have another way to resolve labour disputes if they cannot strike because their work is essential to public health and safety.  The court affirmed that the right to strike is at the heart of a meaningful system of collective bargaining.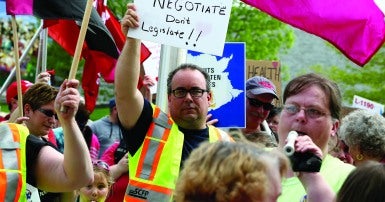 This ruling puts labour rights on a more level playing field with other constitutionally-protected rights and freedoms, decisively overturning decades of regressive legal thinking. 
We also advanced workers' rights in Ontario, winning a precedent-setting case that recognizes our members' right to workers' compensation when they suffer a traumatic mental injury at work. CUPE continues to fight to protect the rights of our members to a workplace that is safe and healthy, and to benefits when they suffer an injury on the job.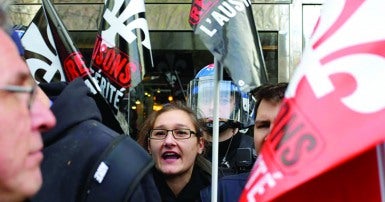 In Quebec, we won an award entitling two fired temporary workers to be treated the same as permanent employees, if they had at least two years of service. This is an important confirmation of the right of long-time precarious workers to be protected against being fired without just cause.
CUPE's legal team was also instrumental in significant bargaining victories for CUPE members in Ontario, British Columbia, and at Air Canada.