Over 500 social and labour activists from across Canada are taking part in CUPE's 2nd National Human Rights Conference in Winnipeg. Day two focused on a look at the make-up of CUPE's membership, and discussions on Canada's human rights record.
Who are we?

CUPE

's membership survey
Day two kicked off with a presentation on CUPE's first-ever comprehensive survey of its members. Shelly Gordon, director of Research, Job Evaluation and Health and Safety, presented the results that confirm the union advantage for Canadian workers: better wages and benefits, and safer work environments. While this advantage is especially critical for equality seeking groups, there is still much to do. Too many of our members – nearly 20 per cent – are in precarious jobs.
Two speakers helped put the survey results in a broader context. Grace-Edward Galabuzi, an associate professor at Ryerson University, explained how the shift away from full time, continuous work with good wages and benefits, towards work with low wage and job insecurity, is taking a toll on workers.
Alexa Conradi, president of the Quebec Federation of Women, said cut backs to services, especially care giving services, are forcing women to work for free. The need for care doesn't go away. What changes is who provides that care and where it happens. She also reminded conference participants that we are most effective when we work together and the 2015 World March for Women is an opportunity to build coalitions.
Participants also took part in workshops on equality in his socio-economic context.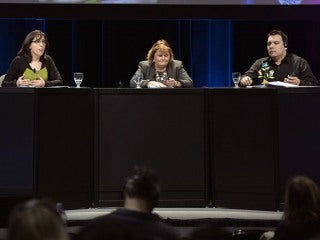 Our history, our future: Canada's human rights record
The conference's afternoon panel focused on Canada's human rights record. Yvonne Peters, chairperson of the Manitoba Human Rights Board of Commissioners, shared a glimpse of the progress we've achieved in terms of reducing discrimination and harassment in Canada, and in our workplaces.
Peters commended CUPE's solid track record in fighting for improved work conditions for people with disabilities, but emphasized that more needed to be done to increase their participation in the workforce.  She said Canada's Human Rights Commission had much room for improvement, but added that it's "the only public institution in town specifically aimed at eliminating inequality in our communities."
Niigaanwewidam James Sinclair, associate professor at the University of Manitoba, spoke about some of the challenges still faced by Aboriginal peoples in Canada. He said powerful movements like Idle No More gave him hope. "To see brothers and sisters driven by peace and love fighting for progress on issues that have plagued our country for centuries is so inspiring," said Sinclair.
Only when Canadians learn to live as a family, added Sinclair, where people feel a responsibility to be mindful of one another, and when people understand that all of creation is interconnected, will Canada reach its full potential.
The day concluded a visit to the Canadian Human Rights Museum, the world's only museum solely dedicated to human rights awareness and education, recently opened in Winnipeg.