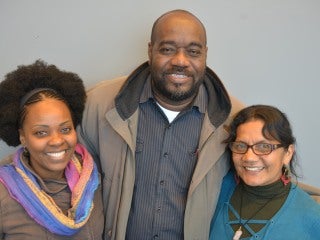 In 2018-2019, CUPE's Global Justice Fund supported workers and community allies in Burma, Canada, Colombia, Cuba, Guatemala, Honduras, Nicaragua, and the Philippines. The fund supported ten projects working for peace, advancing labour and gender rights, defending human rights, building trade union capacity, fighting water privatization, promoting public services and raising awareness among CUPE members. Here are some of the ways our partners and allies took action to build a better world. 
Migrant workers in Canada 
For years, migrant caregivers, migrant rights advocates and other allies have pressed the Canadian government to grant permanent residency to caregivers and other migrant workers. As part of this work, KAIROS supports the Caregivers' Campaign for Status. 
Over the past year, the campaign has worked with migrant caregivers and advocates to call on the Canadian government to grant migrant workers and their families permanent residency upon arrival.
Canadian immigration policy has often discriminated by favouring groups of people from specific countries, or with certain income levels, to become permanent residents, while keeping other groups of people under temporary status.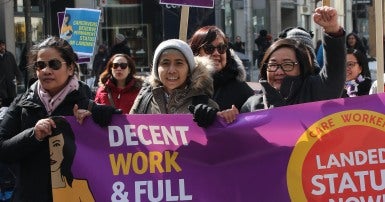 In 2018, the federal government announced changes to its migrant caregiver program. This created panic among migrant caregivers working in child care, long-term care and elder care, and their employers. The changes would have meant migrant caregivers who had not worked continuously for 24 months by November 2019 would not qualify for permanent residency. 
Migrant worker groups and their allies, including CUPE, mobilized against the new program and built a campaign. This coordinated advocacy led to the federal government announcing two new five-year pilot programs that give migrant caregivers a pathway to permanent residency. 
The new programs provide occupation-specific work permits. This lets caregivers change jobs quickly and easily when needed, making them less vulnerable to abuse. In addition, family members will be able to accompany caregivers through work permits for spouses and study permits for dependent children. 
While the announcement only applies to caregivers, and they will still wait two years to receive permanent resident status, it is an important step. The government appears to be addressing the inherent power imbalance between migrant workers and their employers, a situation that is made worse by the Temporary Foreign Worker Program and its employer-specific work permits. 
Central America 
The Central American Women's Network in Solidarity with Maquila Workers, known as The Network, is a coalition of seven women's rights organizations in El Salvador, Guatemala, Nicaragua and Honduras, with a focus on maquila workers' rights. The Network addresses the root causes of violations of sweatshop workers' rights, by working to change national and regional labour policies. 
In June 2018, The Network organized a public forum in Honduras to look at what women maquila workers in Central America have achieved, and the challenges they still face. Member organizations shared research, including a Guatemalan study on workplace violence as an occupational risk factor and its implications for women's lives. A study from El Salvador looked at the socio-economic situation of a group of women workers and former maquila workers in the municipality of San Marcos. A study from Honduras examined the factors affecting the mental health of workers in garment manufacturing sweatshops in the Cortes area.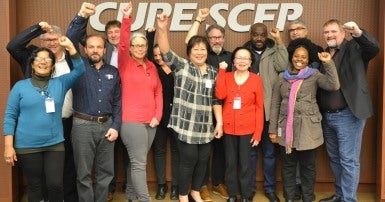 The Central American countries where The Network operates face increasingly corrupt and repressive governments, militarization of society, growing precarity of employment, and anti-worker legislation. Participants underscored the importance of unifying efforts to strengthen campaigns through social networks and street struggles, to ensure that human and labour rights are respected, and work-related illnesses are recognized by government authorities.  
Colombia – SINTRACUAVALLE 
SINTRACUAVALLE, the union representing workers in the public water utility ACUAVALLE in the region of Valle de Cauca, has been promoting their grassroots campaign called the "Social plan to defend water in public hands" in several communities. Large agricultural and commercial projects which privatize water sources for industrial use are threatening water supplies in some large municipalities. Private control of bulk water limits access for community residents. 
SINTRACUAVALLE is committed to ensuring that water is not treated as a commodity and is available to everyone, regardless of ability to pay. The union works with communities outside large municipalities, supporting their ability to control and operate their own local water systems. These self-managed and not-for-profit systems operate on the principles of solidarity and democracy, enabling communities to promote small and medium-scale agriculture and food sovereignty.  
SINTRACUAVALLE's water worker members are promoting this community plan to defend their public utility from privatization. The Colombian government's "Water for Prosperity" program promotes public-private partnerships, supported by private investors seeking to turn public water systems into a profitable business. 
The union has a committee to keep water public that works with community members on strategies to stop privatization. This committee is supporting a campaign that unites the union and local groups to protect the public water system in the community of Jamundi. The system here is under pressure to privatize from national and Japanese investors. 
This past year, SINTRACUAVALLE also organized a regional forum to promote the right to water as a precondition for genuine peace. The union's prominent role in defending workers' rights and the right of universal access to water has led to ongoing threats against their leadership.  
Colombia – NOMADESC 
In early 2019 the Association for Research and Social Action (NOMADESC) provided human rights monitoring and solidarity to Indigenous peoples who were taking collective action. Their mobilization was called the Social Minga in Defence of Life, Territory, Democracy, Justice and Peace. Thousands of Indigenous people from the Valle de Cauca region marched and took other actions to demand a meeting with Colombian President Ivan Duque. 
The protestors were calling for the government to respect the 2016 peace accords and live up to its promises around human rights, development, and ending violence. To date, the government's response has been repression by state security forces. Dozens of people have been injured, and Indigenous protesters have had their shelters destroyed. NOMADESC is documenting the rights violations by filing complaints. The group is also coordinating international support for the community social mobilizations, known as Minga. 
Since the 2017 demobilization of the Revolutionary Armed Forces of Colombia (FARC), far-right paramilitary groups have taken over territories previously occupied by the rebels. These groups are believed largely responsible for targeting human rights defenders with threats, violent acts, and assassinations. There have been 478 assassinations since peace accords were signed at the end of 2016. More than 200 social movement leaders were killed in Colombia between January 2018 and February 2019, mainly in the southwest area of the country. 
In January 2019 a court in Cali convicted three retired military officers of planning to assassinate NOMADESC director Berenice Celeita, opposition senator Alexander López, and leaders of SINTRAEMCALI, the Cali municipal workers union that has steadfastly opposed privatization. The conviction and four-year prison sentence come after years of investigation, which finally proved that Colonel Julian Villate Leal andMajors Alfonso Abondano Mikan and Marco Fidel Rivera were behind the 2004 assassination plot. Villate Leal trained at the School of the Americas, a US army facility. 
Cuba 
In 2018 Cuban unions, including the National Union of Public Sector Workers (SNTAP) Havana local, organized worksite consultations on a proposed new constitution. Hundreds of thousands of people, including public sector workers and students, took part in the wide-ranging consultations. On February 24, 2019, the Cuban people approved a new constitution. The National Election Commission reported that 90.15 per cent of 8.7 million eligible voters participated, with 86.85 per cent voting in favour.
The new constitution, which enshrines free universal education and accessible public health care, is also expected to open up the economy to the private sector. The impact of ongoing US intervention in the region, including in neighbouring Venezuela, has forced the country to allow private businesses to operate in the country for the first time in decades. Venezuela supplies much of Cuba's oil, and access has been limited because of the ongoing crisis in Venezuela. The US economic blockade of Cuba remains in force, and US President Donald Trump has announced new sanctions against the country. Some of the provisions in the new constitution try to mitigate this difficult situation. 
Honduras 
The Honduran Women's Collective (CODEMUH) does an enormous amount of organizing to stop workplace violence against women, in a country with the second-highest rate of femicide in the Americas. CODEMUH is one of the few organizations in Honduras advocating for workers' health and safety, specifically focusing on women maquila workers who make clothes in sweatshops. They work to improve women's rights, with a focus on health and safety, defending basic labour rights, and advocating for women's right to a life free of violence. 
In November 2018, CODEMUH organized a major demonstration in San Pedro Sula to protest that 96 per cent of the 322 femicide cases reported that year went unpunished. Their public campaigning has placed them at odds with the political establishment, who have escalated violence against political opponents since fraudulent elections in November 2017. The post-election repression has been strongest in the region where CODEMUH operates, but the collective continues to focus on defending and improving women's rights by providing education and training, lobbying, and legal and medical assistance. 
The violence after the election, and links between organized crime and the government of de facto President Juan Orlando Sanchez, have created unprecedented mass social upheaval. Since October 2018, two Caravanas migrantes have been walking through Central America and Mexico in an attempt to seek asylum in the United States. More than 10,000 Central Americans attempted to collectively migrate due to deteriorating economic and social conditions in 2018.  
Nicaragua 
The current social and political conflict in Nicaragua has had a significant impact on the María Elena Cuadra Movement of Employed and Unemployed Women (MEC) and the communities it supports. MEC organizes to defend the labour and gender rights of women sweatshop workers.
In April 2018, President Daniel Ortega's government reduced public social security and pension benefits, and increased employer and worker social security contributions. Ortega was responding to International Monetary Fund directives to cut spending on social security. These measures sparked large and sometimes violent demonstrations, which were suppressed with unprecedented levels of repression. 
Armed groups set up roadblocks, and many main routes in the capital were closed for weeks. According to Amnesty International, between April and September, at least 322 people were killed in violent clashes, attacks on demonstrators, and assassinations. More than 700 people detained in relation to the protests remain in jail. Thousands more have fled the country or are in hiding. 
A National Dialogue was established in May 2018 to find a way out of the crisis, with participation from many sectors including government, business, students, universities, workers, campesinos, churches, and Indigenous and Afro-Nicaraguan communities. MEC leaders helped represent labour in the dialogue.
MEC leaders were appointed to the Verification and Security Commission, a body of opposition and government representatives to monitor roadblocks and other protests, investigate reports of clandestine prisons and visit hospitals and clinics to interview people injured in the conflict. 
MEC has a high public profile as a critic of the government and an opposition representative in negotiations with the government. This has made the organization a target for repression by government security forces and pro-government paramilitary groups.
The situation has directly affected the women maquila workers MEC works to defend. Sweatshops in Nicaragua's free trade zones were shut down during the worst periods of the conflict, some of those arrested are children of workers linked to MEC, and travel between different communities became dangerous for weeks at a time. 
The crisis left MEC unable to carry out most of their training and outreach activities. At the same time, demands on MEC's mobile legal clinic increased. Clinic staff, who deal with labour violations and gender-based violence, worked to defend community members who had been arbitrarily detained and fought state actions that threatened MEC's legal status.  
Philippines  
At the beginning of 2019, President Duterte brought in tax reform that increased the price of commodities and transportation. Inflation has soared to 5.2 per cent. At the same time, overreliance on contract workers has continued. More and more workers in the public and private sectors are conducting protests and strikes.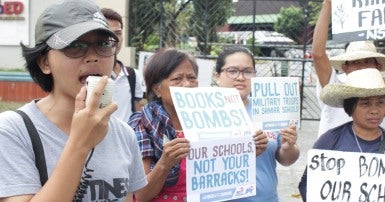 The Confederation for Unity, Recognition and Advancement of Government Employees (COURAGE) has been campaigning for a monthly national minimum wage of 16,000 Philippine pesos (about $410 CAD) for government workers, alongside a campaign to make government contract workers permanent. The public sector in the Philippines relies heavily on contact workers hired by private agencies. Contract workers are deprived of permanent status, lack benefits, and are further exploited by receiving lower wages than permanent workers. 
Through lobbying and mass mobilization, COURAGE forced the government to shelve plans for mass layoffs of contract workers. The government had announced the layoffs to prompt government agencies to review their labour force and identify which contract workers should become permanent. Current contract workers would only have been rehired if they worked for a private employment agency.
Ongoing pressure also forced a change in legislation to ensure contract workers are paid the same as government workers in equivalent positions. It is a partial but very important victory. In the process, COURAGE established relationships with a number of new unions in private agencies outside Metro Manila.
The Alliance of Concerned Teachers (ACT) is campaigning to improve the education sector, as well as calling for an end to martial law and military attacks on Indigenous peoples' schools in Mindanao, and for the rights and welfare of all workers. ACT has organized to become the biggest public sector union in the Philippines and is currently campaigning for a salary increase in the House of Representatives. In 2019, ACT and their political representatives, the ACT Teachers Partylist, celebrated a major campaign win with the introduction of free post-secondary education. The next steps to ensure the policy is implemented fairly and equitably include eliminating ancillary fees and pushing for increased public funding for post-secondary institutions.