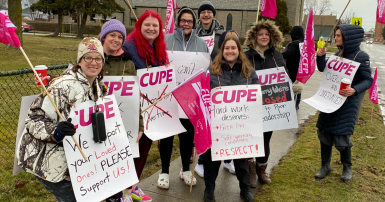 Workers from across the Niagara region will swell the picket line of CUPE 2276 on Wednesday as part of a solidarity rally. Developmental service workers at Community Living Port Colborne-Wainfleet have been on strike since Friday, March 31, fighting for an end to their employer's neglectful policy of leaving workers stuck on shift.
Speakers at the rally include Fred Hahn, CUPE Ontario president; Cassie Bisson, CUPE 2276 vice president, and Mike Haines, Constituency Assistant to NDP MPP Jeff Burch.
The rally will take place at 545 Northland Ave, in Port Colborne, Ontario at noon on Wednesday, April 5.
"We know what reasonable shifts look like. We know what exemplary care looks like. And Community Living Port Colborne-Wainfleet isn't living up to either," says CUPE 2276 vice president Cassie Bisson. "We're so moved by the support we've received, from community members, from families, and from other workers. And we're going to keep fighting for a deal that puts workers and the people we care for first."