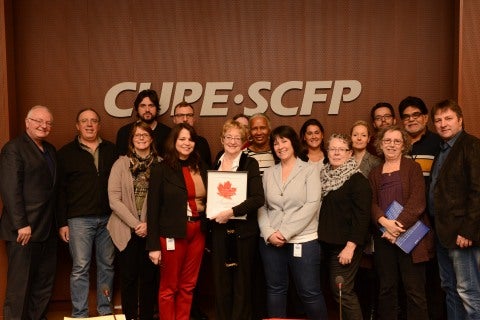 For our "unwavering commitment to social justice, fighting privatization of Canada's public services, and supporting public sector workers," CUPE was honoured with this year's Activist of the Year award, presented by the Council of Canadians.
Council National Chairperson Maude Barlow presented the award to CUPE National President Paul Moist and National Secretary-Treasurer Charles Fleury at CUPE's National Executive Board meeting, taking place this week in Ottawa.
At the meeting, Barlow spoke about CUPE's friendship and partnership with the Council in fighting for public health care, public water, trade justice and democracy.
Though the award usually goes to an individual, this year the Council's Board of Directors voted to grant it to CUPE for our extensive work on a wide variety of issues.
At their recent AGM, the Council highlighted their important partnership with the labour movement, using the banner "Forging Solidarity."