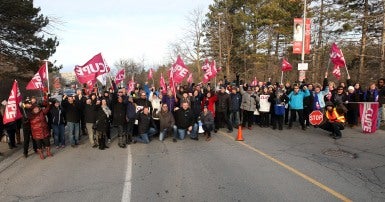 Hundreds of CUPE activists meeting in Ottawa this week for CUPE's All Committees Meeting were able to join CUPE 2424 for a solidarity picket and march on Tuesday afternoon, to support administrative, technical and library workers on strike to protect their pension rights. 
Joined by National President Mark Hancock and National Secretary-Treasurer Charles Fleury, hundreds of members gathered at the entrances of the university to show their unwavering support for CUPE 2424.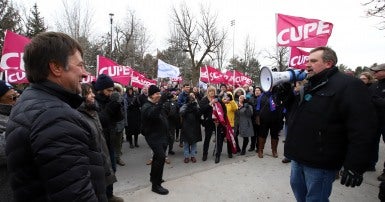 "My message to the university is this: if you're serious about getting a collective agreement, then drop the concessions and get back to the bargaining table. Our members will not give up their pension rights," said Mark Hancock, supported by cheers from the crowd.
CUPE stands strong in its commitment to fight concession and defending the free collective bargaining rights of its members.