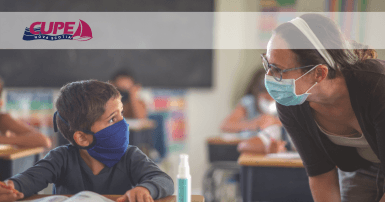 Representatives from the Nova Scotia School Board Council of Unions (NSSBCU) are pleased that Nova Scotia Public Health and the Halifax Regional Centre for Education (HRCE) have taken decisive action today, closing 32 schools due to the discovery of active cases of COVID-19 in at least nine public schools this week.
"We are calling on the Province to take similar swift action should the same situation happen in any of our other regional school districts," says NSSBCU Chairperson Lisa deMolitor.
Chris Melanson, President of CUPE 5047 representing 1,600 school support staff in the Halifax region, says, "Prince Andrew High School is another family of schools that is located between Auburn, Dartmouth and Cole Harbour high schools. Many of our members have children who attend the schools that have active cases and are now closed, but this presents a real hardship."
"These school support staff workers may have to make the decision to stay home with their children, but it is not understood if they will receive wages during the shutdown," adds Melanson. "We have had positive discussions with the HRCE about 'wage protections' regarding COVID-19 in the past and we hope that applies to this shutdown as well."
"Our members are the backbone of the education system and include school bus drivers, community outreach workers, custodians, mechanics, caretakers, building specialists, janitors, and maintenance workers, librarians and library assistants, cafeteria workers, tradespersons, lunch ground supervisors, early childhood educators; education assistants/teaching assistants, facility operators, secretaries, and other school support positions," says deMolitor.
"I would like to thank each and every one of our members across the province who continue to work through these difficult times," adds deMolitor.
"The increase in active cases and community spread are quite alarming to our members and we are concerned that this outbreak will spread to other parts of the province," says deMolitor, "Please follow the restrictions put in place today by Dr. Strang. Please wear a mask and please remain at home as much as possible."
"Our members' number one concern is the health and safety of students and staff and we are committed to helping keep our schools and communities safe," states deMolitor.