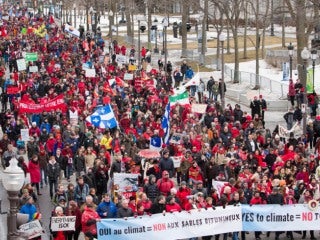 Act on Climate March in Quebec City 
Assembled under the banner "Yes to climate action: No to tar sands", thousands of marchers came out Saturday, April 11 to send a clear message to Premier Couillard and his colleagues from the rest of Canada, three days before the start of the climate summit in Quebec City.
"We have come to Quebec City to tell the premiers of all the provinces that there can be no compromise on this crucial issue. The fight against climate change means refusing to exploit and transport oil from the tar sands and moving towards energy efficiency and renewable energy," said Christian Simard, director of Nature Québec.
Initiated by the grass-roots environmental movement, the Act on Climate March included representatives from First Nations, trade unions and environmental organizations, social movements, and student associations, citizens' groups and individuals across Canada, from as far as Fredericton, Halifax and Toronto.
"We are meeting in Quebec City today with serious concerns about the development of oil from the tar sands and its impact on the climate, the integrity of our land, its ecosystems and its inhabitants," said Karel Mayrand, Quebec director of the David Suzuki Foundation. "Today we are saying YES to renewable energy and NO to oil, once and for all. It's a matter of protecting the climate and a healthy future for all of Quebec."
The thousands gathered today have shown that citizens of every province are ready to mobilize and demand that policy makers take concrete, far-reaching measures to combat climate change.
"The premiers must stand up to the Harper government and get on the right side of history by rejecting dirty energy projects. They need to develop credible plans to combat climate change, which absolutely entails the rejection of tar sands oil and related pipeline projects," said Steven Guilbeault, co-founder and director of Équiterre.
"This is the decisive moment to show our opposition to projects that will have serious consequences for our future and that of future generations. We need to rid ourselves of the illusion that we have no choice," said Kanesatake Grand Chief Serge Simon.
"The Act on Climate March is a new effort to challenge our leaders and encourage them to shake off the pressure of the tar sands industry, Canada's largest source of greenhouse gas (GHG) emissions. "We are asking them to firmly oppose their exploitation and the transport of petroleum by pipelines like Energy East, or by train", added Tzeporah Berman, co-founder of ForestEthics.
The United Nations has stated that Canada must act by 2020. "If Canada wants to achieve its GHG reduction objectives by 2020, it must address the main source of the problem: the Alberta tar sands," said Joanna Kerr, executive director of Greenpeace Canada. "The expansion of the tar sands prevents any serious action in the fight against climate change in Canada. The science is clear: 85% of oil reserves in the tar sands must remain in the ground if we want to stabilize the climate."
"Civil society has never been so ready to provide the necessary impetus to make climate protection a real social project. While some players in our society are already in solution mode, our political leaders, on the contrary, are missing the boat on History. But faced with the challenges that climate change represents for humanity, we need, more than ever, leaders who show courage and innovation," said Anne-Céline Guyon, citizen, inter-regional coordinator of Regroupement vigilance hydrocarbures Québec and spokesperson for STOP the pipeline and the Coule pas chez nous campaign.
While Ottawa has been slow to announce its GHG reduction targets, Quebec is committed to reducing its GHG emissions by 20% by 2020, more difficult to achieve if there is no national plan to fight climate change.
The highlight of this convivial, family-friendly assembly was the formation of an enormous human thermometer, visible from the sky, created by participants to demonstrate symbolically the urgency of taking action on climate change. The Act on Climate March became festive later in the evening, with the Climate Show, featuring francophone, anglophone and First Nations musicians, including Les Respectables, Élisapie Isaac, Yann Perreau and Sarah Harmer.
On Sunday, there was an Act on Climate Forum: in view of the fall 2015 elections and the Paris conference on climate change in December, the Forum aimed to strengthen collaboration, promote mutual understanding among organizations and find ways to work together more effectively.
"With the meeting of the premiers on April 14, a meeting of civil society is necessary so that we can push for ambitious provincial and federal policies that seriously tackle climate change. The aim is to bring our groups together on issues such as job creation and the transition to cleaner energies," explained Serge Cadieux, secretary general of the Fédération des travailleurs et travailleuses du Québec (FTQ).
"We need to leave the oil in the ground," concluded actress Tantoo Cardinal, a member of the Order of Canada. "It is time for our Prime Minister and the premiers of the provinces to move beyond fear, greed and complacency and take this opportunity to set Canada on a different path. Our grandchildren will thank us for it."
The Act on Climate March is the fruit of a pan-Canadian coalition, initiated by Quebec's environmental movement: l'Association québécoise de lutte contre la pollution atmosphérique (AQLPA), Équiterre, the David Suzuki Foundation, Greenpeace, Nature Québec, and the Regroupement vigilance hydrocarbures Québec, in collaboration with trade unions, social movements, student associations, citizens' groups and First Nations.
Photo: Greenpeace/Robert van Waarden