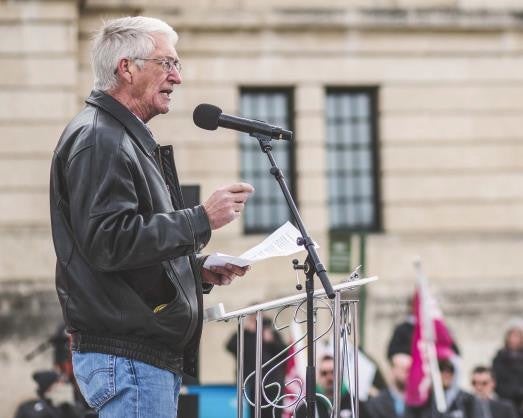 The Saskatchewan Division of the Canadian Union of Public Employees is calling on the Saskatchewan Party government to drop the mandated 3.5% compensation reduction for public sector workers that was announced as part of its 2017 provincial budget.
"CUPE is the largest union in Saskatchewan representing over 30,000 workers, with roughly two-thirds of our workers in or going into bargaining in the near future," said Tom Graham, President of CUPE Saskatchewan. "Not one single CUPE local has agreed to accept a rollback in compensation since this regressive mandate was announced earlier this year. CUPE bargains forward, not backwards."
"Our members did not make the mess the government finds itself in today and we will not be held responsible for its financial mismanagement. We have continuously expressed at the bargaining table and in protests, rallies, as well as directly to the government, that our members deserve to be treated fairly in the workplace and by this government," said Graham.
"CUPE has a national policy on bargaining that states 'No concessions, no rollbacks, and no two-tier contract provisions'." said Graham. "Our goal is to improve wages, job security, working conditions for all workers, and to protect the pensions and benefits of retirees." said Graham. "The MLA's who took a 3.5% wage reduction make roughly three times more than the average public-sector worker. It's ridiculous to demand a wage reduction on top of this government's regressive taxation measures and the cost of inflation."
The 3.5% wage reduction was budgeted for without consultation of employees or unions beforehand. It is one of many cuts that the public, unions, and non-governmental organizations have been protesting since the budget was introduced.
The provincial government has walked back a number of budgetary measures, including cuts to library and municipal funding and funeral services for the poor. Graham said the government needs to do the same with its public-sector wage mandate.
CUPE is Canada's largest union representing 650,000 workers. In Saskatchewan CUPE represents workers in health care, K-12 education, municipalities, universities, group homes, day cares, and other sectors.