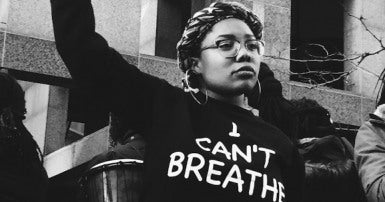 As we celebrate February as Black History Month, CUPE would like to recognize the many union activists and community organizers of African descent who continue to help build brave and resilient communities and workplaces.
We are grateful to those who continue to resist and build within our unions, in our workplaces and our communities. From bargaining for more inclusive and equity-based language in our collective agreements to challenging racism in our schools and our communities to on-the-ground organizing and mobilizing, people of African descent have been helping to build more equitable societies despite systemic barriers.
In its preliminary report on the current realities faced by African Canadians, the United Nations Working Group of Experts on People of African Descent noted the need to remember and recognize Canada's history of enslavement, racial segregation, and marginalization – and how that continues to impact people of African descent.
Many factors combine to paint a bleak picture for many people of African descent across Canada. They face disproportionate poverty levels, anti-Black racism and ongoing police violence. The UN Working Group notes that children of African descent are disproportionately taken away from their homes by child welfare agencies on dubious grounds. People of African descent are also chronically over-represented in the criminal justice system.
As a labour union, we are committed to negotiating and enforcing collective agreements that do not tolerate discrimination. We will fight any harassment that our members face because they are of African descent. And as part of social movements against discrimination and for equality, we will continue to pressure employers and governments to bring in employment equity and implement the recommendations in the UN Working Group's preliminary report.
CUPE acknowledges the UN Decade for People of African Descent. We encourage members to address anti-Black racism in their locals, workplaces and communities.
Here's how CUPE members can oppose anti-Black racism:
Take part in webinars! The Canadian Labour Congress's Working While Black webinars celebrate the contributions of Black activists and organizers in Canada. Learn more about strengthening solidarity across movements and build your skills and knowledge for confronting anti-Black racism in our workplaces and communities.  
Review the preliminary report by the United Nations Working Group of Experts on People of African Descent.
Lobby for the implementation of legislation, policies and institutions that address anti-Black racism in your region.
Bargain employment equity language into your collective agreement to help ensure that your workplace represents the diversity of your community. Stay tuned for

CUPE

's new 'bargaining employment equity' guide, which will be part of our bargaining equality resource collection.
Order free copies of 

CUPE

's anti-racism brochure Diversity, our strength and our Black History Month bookmarks from cupe.ca.
Educate yourself and your members about the contributions of people of African descent in Canada. Many online resources are available, including this National Film Board playlist celebrating the history of the Black community in Canada and this educational tool inspired by Lawrence Hill's The Book of Negroes. See also the Ontario Black History Society for more information and resources.
Invite a Black activist or community organization to speak to your local.
Ask for 

CUPE

's Creating Racial Justice workshop, Human Rights workshop and anti-oppression workshops to be delivered to members in your region.Support community organizations and movements such as Black Lives Matter and other community organizations that fight against systemic racism and violence. Visit blacklivesmatter.ca or follow #BlackLivesMatter on Twitter.