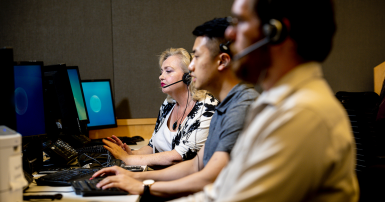 Dan Gawthrop | CUPE Communications
Members of CUPE 8911 are speaking up and speaking out about the crisis in B.C.'s 9-1-1 calling and dispatch services.
An existing campaign to raise awareness about their work has taken a more urgent turn since members were pushed to the breaking point this summer when fatal heat waves pressured the 9-1-1 system beyond its limits.
British Columbia's 9-1-1 services are provided by E-Comm, the first point of contact for 99 per cent of 9-1-1 callers and the provider of call-taking and dispatch services for 33 police and 40 fire departments across the province. Continuing understaffing challenges in a high-stress environment—worsened by extreme weather events, the COVID-19 pandemic, and the ongoing opioid crisis in B.C.—have led to severe burnout, poor working conditions, and high staff turnover. Ongoing challenges with recruitment and training of new staff, coupled with serious retention problems, are putting this vital service at risk. 
"There is a crisis at E-Comm, and without significant changes we are putting the entire system at risk of catastrophic failure," says CUPE 8911 President Donald Grant. "We're seeing it every day on the job, and in media reports of the horrible consequences of people not being able to get through to 9-1-1. The current funding challenges have life-or-death implications for the public because understaffing directly impacts our members' ability to respond to emergency and non-emergency calls in a timely manner. In our line of work, seconds count."
The main problem is a reactive funding formula, based on cost recovery, that prevents E-Comm from getting ahead of existing problems or meaningfully improving the services it provides. A recent report commissioned by E-Comm concluded that the company cannot be successful with an understaffed system that relies so heavily on overtime and staff missing breaks, or that simply abandons efforts to meet its service levels. The situation is bad enough in normal times but, during a crisis, E-Comm is simply unable to handle call volumes.
"This service needs a boost in revenue right now in order to address existing problems before they snowball," says Grant. "If real solutions are not reached soon, the problems will become untenable. With public safety at stake, there is an urgent need for stabilized funding to hire additional staff and mitigate the extreme stress of dispatchers and call takers."
CUPE 8911's campaign is calling on E-Comm's funders—municipal governments—to provide an immediate financial infusion to right-size operations at E-Comm, consistent with staffing recommendations laid out in the report. The union also recommends that the funding formula for E-Comm be reimagined so that it better reflects inflationary realities of operations and creates room to pre-empt—rather than react to—a crisis that puts the public at risk.