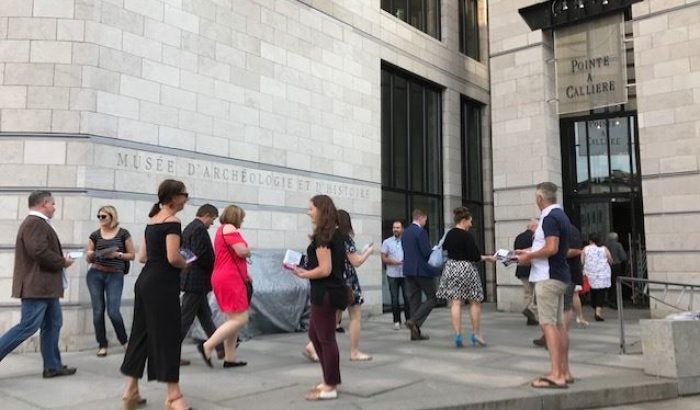 The members of CUPE Quebec are standing behind 600 Pacific Blue Cross employees in British Columbia who have been locked out for the last month and a half. CUPE activists distributed flyers this past Saturday at Pointe-à-Callière Museum in Old Montréal at a reception held by an international organization specializing in group insurance.
Attendees at this event included Pacific Blue Cross, a British Columbia-based provider of group insurance services. Members of CUPE Local 1816 had been taking part in rotating legal job actions when this employer proceeded to lock them out on July 7. Negotiations between the parties have been at an impasse because the employer is seeking to make unilateral changes to employee working conditions and retiree benefits. Among other cuts, Pacific Blue Cross wants to take back sick leave and flexible scheduling in addition to no longer recognizing seniority for promotions.
"The jobs that the members of CUPE Local 1816 do and the passion they put into their work are what adds value to the Pacific Blue Cross brand," read the flyer distributed to the reception attendees.
The lockout has been causing delays in processing claim applications for more than 1.5 million clients. The people of British Columbia are consequently paying the cost of this management-imposed lockout. Pacific Blue Cross has also indefinitely postponed its annual general meeting, going against its own corporate by-laws.
On August 10, the British Columbia Labour Relations Board acknowledged that the insurer had violated that province's Labour Relations Code by making use of scab workers during the labour conflict.
It is time for Pacific Blue Cross to end the lockout and negotiate a solution to this conflict. The well-being of British Columbians depends on it.