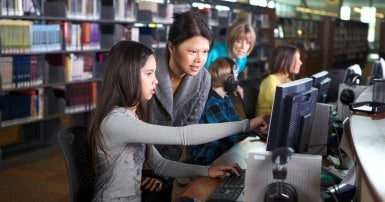 To mark October, which is Canadian Library Month, CUPE Quebec would like to highlight the contribution by its library workers.
Today's libraries promote literacy, a skill essential to gaining access to the workforce. In addition, they help break the cycle of poverty and isolation by offering, in particular, free Internet access to the most underprivileged.
Whether librarians, documentation technicians or clerks, they all do important work that is little known to the public. That is why the CUPE Quebec committee for library workers launched a video a few months ago to promote its members who are working in municipal, college and university libraries and in school service centres.
These days, libraries face the threat of budget cuts and automation.  Moreover, increasing numbers have precarious status.
To open the video by the CUPE Quebec committee on library workers, CLICK HERE.