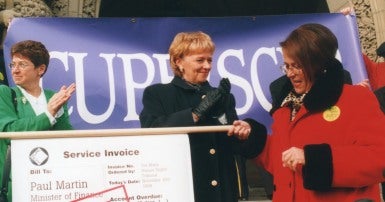 CUPE is saddened to learn that Alexa McDonough, former leader of the federal NDP and Nova Scotia NDP, has passed away after a lengthy fight with Alzheimer's at the age of 77.
Alexa won the leadership of the Nova Scotia NDP in 1980, and won her seat to represent Halifax Chebucto in the Nova Scotia Legislature shortly after, becoming the first ever NDP MLA from outside Cape Breton Island. She was the only woman in the Nova Scotia Legislature at the time.
In 1995, she won the leadership of the federal NDP, becoming a champion on the national stage for public services and equity issues, and a voice for human rights in the hostile aftermath of the 9/11 attacks in the United States.
Alexa was awarded the Order of Canada in 2009 and the Order of Nova Scotia in 2012.
"We have lost an incredible leader and an incredible person in Alexa, but her contributions will live on forever," said CUPE National President Mark Hancock. "On behalf of our 700,000 members nationwide, I'd like to offer our condolences to Alexa's family and loved ones."
"Alexa was a trailblazer and an inspiration for so many women to become leaders in our movement and our fight for a more equal and more just world," said Candace Rennick, CUPE National Secretary-Treasurer. "Her memory will inspire us all to keep fighting."
January is Alzheimer's Awareness Month, and CUPE encourages members to learn more and contribute to efforts to help those who suffer from Alzheimer's.