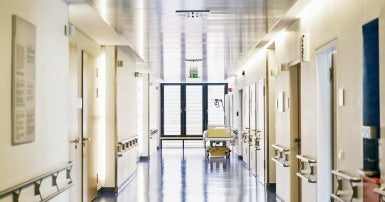 CUPE spoke out at this morning's emergency hearings against Bill 7, the so-called More Beds, Better Care Act. The hearings were held by the Ontario New Democratic Party (NDP). Bill 7 will not create more beds or provide better care for Ontarians. This Bill will instead further the Ford Conservatives plan to privatize Ontario's healthcare system.
The government's proposed Bill will force seniors and other patients from hospitals – where they are receiving appropriate care and awaiting alternate care in an appropriate setting, into the empty beds in private long-term care facilities, which need to be at 98% capacity to receive their full entitlement of government funding.
 "There is a reason that these beds are empty to begin with, and it is because for-profit operators fall short, tragically so. We saw this with the very high death rate during the height of the COVID-19 outbreaks in LTC. Forcibly moving elders and people with disabilities from publicly funded hospitals into LTC homes is yet another form of creeping privatization to the healthcare system," said Debra Maxfield, the Chair of the Canadian Union of Public Employees' Health Care Workers Coordinating Committee (HCWCC) and a long-term care worker.
Prior to the announcement that patients can be transferred against their will from hospitals into LTC homes, CUPE estimated that an additional 45,000 nurses and personal support workers (PSWs) were needed for the LTC sector by the end of 2024-25. CUPE also estimated that an additional 5,000 other LTC staff besides nurses and PSWs – housekeeping, dietary, management, administration, maintenance, recreation, physiotherapy – will be needed by the end of 2024-25. Bill 7 fails to make the proper investment in staffing in long-term care, home care, and rehabilitative care.
"I see these problems first-hand. For those of us in healthcare, this is our daily reality. The ability to attract and retain enough staff has been put under immense pressure due to chronic underfunding of public healthcare and LTC by successive governments, low pay and wage cuts when factoring in inflation that are mandated by Bill 124, and staff burnout. The government's Bill 7 does nothing to address these issues, which they caused, made worse, and have known about for years," added Maxfield.
In an effort to fast-track the legislation and avoid public scrutiny, the government has elected to not hold any public hearings on the Bill and minimize debate in the legislature. Today's NDP hearings attempted to inject some level of public debate into this ill-informed piece of proposed legislation. "This government is hoping that people will not notice the true intent of this legislation and will not fight back against it. We are here. We have noticed. We are fighting back," concluded Maxfield.