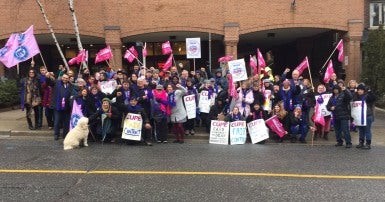 The Executive Board of CUPE Ontario paused its meeting today to join striking workers at the Spadina Road offices of the Canadian Hearing Society, one of 24 Canadian Hearing Society offices across Ontario that saw picket lines go up Monday morning after the employer pushed these workers out on strike.
"The Hearing Society can't truly say they respect the people who use their services until they can demonstrate their respect for the workers who deliver them," says Fred Hahn, president of CUPE Ontario. "These workers have been patient for four long years – and instead of meeting that patience with solutions and compromise, the employer greeted them with rollbacks including slashing their sick leave plan. The bottom line? Our members are walking the line now to restore respect and dignity to their workplace, and value to the services they provide. They deserve nothing less. We urge the employer to come back to the table to work for a settlement."
Local 2073 of the Canadian Union of Public Employees (CUPE 2073), which represents 227 counsellors, literacy instructors, audiologists, speech language pathologists, interpreters/interpreter trainers, clerical support, program coordinators, program assistants, information technology specialists, and other staff at 24 Canadian Hearing Society offices across Ontario, has been without a contract since 2013.
The Canadian Hearing Society receives funding from the provincial government, the United Way and fees for service. The organization has shifted its orientation in recent years away from service to community and more towards its business model. There seems to be adequate funding to increase salaries for senior managers but not for front line workers.
Many of the workers now on strike are Deaf, Oral Deaf, Deafened or Hard of Hearing. There has been tremendous support from the community they serve so far, with over 1400 people sending emails to the employer in just four days.
CUPE is Ontario's community union, with more than 260,000 members providing quality public services we all rely on, in every part of the province, every day. CUPE Ontario members are proud to work in social services, health care, municipalities, school boards, universities and airlines.