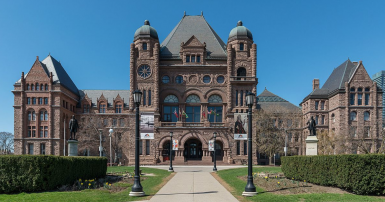 The Ford Conservatives have shown Ontarians who they are by ramming through legislation silencing public debate, said CUPE Ontario.
"The Conservatives threw us into avoidable waves of COVID-19 because they refused to listen to the experts, to our communities, and to our needs," said Fred Hahn, President of CUPE Ontario. "And now they're doubling down by forcing through legislation limiting political debate by advocacy organizations, community groups, concerned citizens and unions in only 48 hours and with no public consultation. This drastic and unprecedented move cannot go without consequences. Today is the day that we reclaim our province by making sure every single Conservative MPP loses their seats in the next election."
When the Ford Conservatives proposed Bill 254, CUPE Ontario called it an attack on the right of workers, unions, advocacy organizations, and concerned citizens to raise important issues through political advocacy and advertising and for Ontarians to hear about them. The Bill creates real barriers for all Ontarians who want to work together to expose Ford's failure to keep Ontarians safe during a global health crisis or his failure to develop a real plan for a safe reopening.
On Tuesday, June 8, a judge struck down Bill 254, declaring it a violation of Ontarians' Charter rights, but the next day, Doug Ford invoked the Notwithstanding Clause to overturn the decision. That means that notwithstanding the rule of the court to protect Ontarians' rights, the government would push the Bill ahead anyway.

"Yet again, the Ford Conservatives side-stepped the law and silenced critics," said Hahn. "But there is hope. Ontarians are seeing the Ford Conservatives for who they are. A referendum on their performance as stewards during a public health crisis in the form of an election is less than a year away. We must never forget today. We must never forget that each and every Conservative in the legislature today voted in favour of this outrageous and draconian move. I know they won't be able to get away with consistently trampling on our rights and muzzling the voices of everyday Ontarians without consequence."