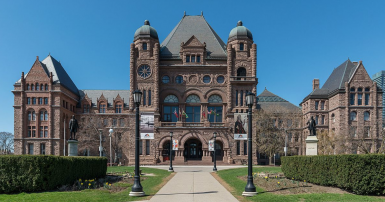 An Ontario Superior Court judge ruled yesterday that the Ford Conservative's expansion of the Election Finances Act to limit political advertising by unions, advocacy organizations, and concerned citizens is unconstitutional. CUPE Ontario welcomed the ruling, calling it an important victory for freedom of expression and association that bolsters the democratic process in Ontario.
"The only way we can truly come out of the pandemic stronger and better as a province is by being able to hear from the very people and organizations that have been on the ground getting us through COVID-19," said Fred Hahn, President of CUPE Ontario. "This decision ensures that those of us who aren't political parties - like unions, community organizations, and provincial issue-based coalitions - and who can't assume that our announcements or press events will be aired on multiple television stations, can still get our message out. It means Ontarians will continue to be able to access a range of opinions on issues that matter to us all and make truly informed decisions ahead of elections."
Bill 254 would have meant that third parties, like CUPE Ontario, would see limits to political advertising, which includes issue-based campaign ads that are considered to be closely identified with a political party or a candidate. The Bill doubled the period of restricted advertising and, according to CUPE Ontario, could potentially make collaboration on issues up to challenge one out of every four years.
The union, representing 280,000 public sector workers, raised their concerns about the Bill before today's decision.
"This is wrong. It is undemocratic. It is unconstitutional," Hahn warned the government during committee hearings in March. "The effect of all this will be to create a chill on legitimate and constitutionally protected speech and advocacy."
"The Ford Conservatives' claim that they're just really concerned about big money in elections is just patently false," said Hahn today. "The real effect of such a measure would have been to keep us from raising critical issues. It would have been an obstacle to talking about the countless ways in which the Tories have failed us all over the last year, to reminding our communities of the cuts the Conservatives started before the pandemic, and to describing what we need to do to keep Ontarians safe and to collectively make Ontario the best possible province it could be in the future."