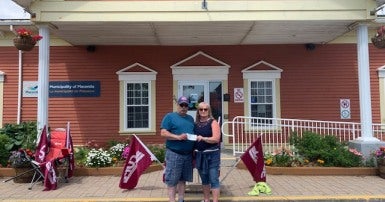 CUPE Newfoundland Labrador President Sherry Hillier presented a $1,500 contribution today to striking municipal workers, members of CUPE 1761, who are employed by the Town of Placentia. As well, CUPE 1615 President Theresa Antle presented a $500 cheque to the strike fund on behalf of members at Memorial University.
"CUPE members across the province stand in solidarity with Placentia municipal workers in their struggle for a fairly negotiated collective agreement," says Hillier. "Going on strike is a last resort and a difficult decision that these members had to make, but CUPE 1761 members felt that after 14 months, with no end in sight, they had no option. Hopefully, the employer will listen and return to bargaining a fair collective agreement."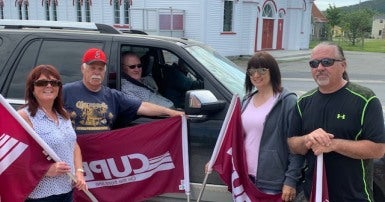 Former Town of Placentia mayors, Wayne Power Jr. and Bill Hogan also stopped by the picket line today to offer words of encouragement and best wishes to the 15 members of CUPE 1761. During their tenures as mayor, collective agreements were successfully negotiated within a four to five-month period, as normally expected.
There has been little to no progress on issues surrounding wages, scheduling and work-life balance. The employer has proposed three years of zero wage increases followed by a one per cent increase in the fourth year of the contract. "We're asking that our wages increase with the cost of living. We think that's fair and reasonable," says CUPE 1761 President Gerry Quilty. "Little or no wage increases mean 'real wage losses' that will impact our members, their families, and the local economy."
"The employer has proposed creating a rotating weekend shift for the current five water treatment operators, where each operator would work the weekend every five weeks. However, the language proposed by the employer guarantees two consecutive days off each week," says Mark Cunningham, CUPE national representative. "How can a person have two consecutive days off if they must work seven days in a row every fifth week? The employer needs to present clear language on scheduling."
Negotiations began May 14, 2018, when both sides met to present their first proposal package.