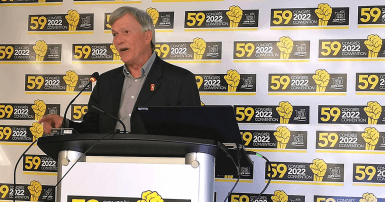 Close to 230 Virtual delegates at the CUPE NB's 59th Annual Convention reiterated their resolve to the "Bargaining Forward" campaign. Improving all workers' wages above cost-of-living increases will remain a priority. The convention was held from April 1st to April 2nd with guests from across the country and CUPE delegates from all corners of our province. 
Mark Hancock, CUPE's national president, and Candace Rennick, CUPE's new national secretary-treasurer, addressed the delegates to celebrate the victorious 2021 CUPE strike in New Brunswick. CLC President Bea Bruske encouraged delegates to keep up their fight to improve public services and push for good legislation for the working class. 
Election results: 
1st Vice-President (2-year term): Sharon Teare was re-elected
Secretary-Treasurer (2-year term): Kimberly Copp was re-elected 
Trustee (3-year term): Faye Nowlan  
Among resolutions passed, delegates voted for a strong provincial anti-scab legislation, improved WorkSafeNB compensations for injured workers and protections against privatization threats. Delegates also voted to improve the Division's board representation in both official languages, ensuring francophones and anglophones have equitable communications and media presence.