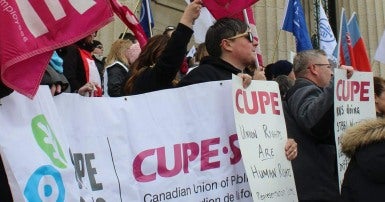 When it comes to human rights, CUPE knows no borders.
So it's fitting that, next week, members of CUPE's National Pink Triangle Committee will be in Miami to take part in the Global Human Rights Conference at the 2017 World OutGames.
CUPE members Mikka Corbeil (CUPE 30 municipal worker from Edmonton, AB), Brenda Doucette (CUPE 3260 school board worker from western PEI) and Gina McKay (CUPE 2348 social services worker from Winnipeg, MB) will be joined in Miami by Pink Triangle Committee staff advisor, Bill Pegler.
CUPE's delegation will be delivering human rights workshops, screening labour rights films and taking part in building a global alliance of activists from trade unions and other organizations to promote equity and inclusion in the labour and social justice movements. The OutGames' three main tracks – sport, culture and human rights – provide a fitting intersection to explore how various issues and challenges connect and overlap.
Every four years the OutGames brings together thousands of athletes, spectators and activists from around the world. OutGames Miami 2017 lasts for ten days and brings to life 450 sporting, cultural and human rights events organized by the Gay and Lesbian International Sport Association (GLISA).
There's another CUPE connection – Victor Elkins will be there in his capacity as International Board Co-President of GLISA. Victor is President of the Hospital Employees Union (HEU) in BC and a Regional Vice-President of CUPE's National Executive Board. CUPE has had a relationship with GLISA and the World OutGames since the first OutGames in Montreal in 2006.
To illustrate the connections between migrant labour rights and social justice, CUPE is hosting a film screening of Migrant Dreams, an extraordinarily intimate look into the reality faced by migrant workers in Canada. The film's director, Min Sook Lee, will also be attending, adding a uniquely Canadian perspective to the cultural component of the ten-day event.
Delegate Gina McKay is a CUPE Member Facilitator, Diversity Representative for CUPE Manitoba, committee member for the National Pink Triangle Committee, and a sexual health and sexuality facilitator in the Social Services Sector. She is thrilled to be presenting a CUPE workshop at the OutGames' human rights conference.
Gina believes there is a growing need for more labour education around sexual identities and workers' rights.
"I have had so many members asking me more and more questions about the diversity and identities of LGBTTI members," she says. She cites this growing hunger for knowledge as the reason she combined two CUPE workshops, Being an Ally for Equality and Addressing Homophobia in the Workplace, to create a new workplace training session.
"I look forward to this workshop where we can highlight the importance of looking beyond the single story for members because diversity is not just about one aspect of a member's life," she says.
The OutGames empowers participants to better understand the importance of how different forms of oppression intersect and overlap, Gina says, adding that CUPE "is the place where I have been able to incorporate social justice, equity and equality, human rights and activism into an intersectional approach."
For Gina, taking part in the OutGames is an essential part of CUPE's work.
"CUPE is taking a lead by putting the principles and the strengths of the labour movement into action," she says. "We are voicing support for international solidarity, and committing to diversity and inclusivity in our workplace and in society."
That leadership will be on full display in Canada in a few years when Winnipeg hosts the OutGames in 2020. OutGames Winnipeg 2020 will be a very exciting opportunity for Gina's hometown, but also for the wider labour movement, she says.
"Our labour movement will take a leadership role in contributing to the next global human rights conference in the homeland of prairie Indigenous peoples, and in the heart of the Métis Nation in Canada – and it will take place the year after the 100th anniversary celebration of Winnipeg's General Strike of 1919, a monumental action that contributed to the very foundation of our labour movement."
McKay says that CUPE will have the opportunity to showcase the diversity of our labour movement in the prairies, and she hopes to see every local in Canada excited to attend and mobilize to become allies for equity, diversity and inclusion.
"This will be a global opportunity to educate ourselves and deepen our understanding and knowledge surrounding the issues and experiences of equity-seeking members," she says. "For me, this work is the future of solidarity and the realization of true equity and equality across our union."
Event details:
Film – Migrant Dreams
Friday, May 26, 5:30 pm
The Loews Hotel, 1601 Collins Avenue, Miami Beach
Workshop – Being an Ally for Equality
Saturday, May 27, 5:30 pm
The Loews Hotel, 1601 Collins Avenue, Miami Beach
***
Follow Gina at the Miami OutGames: @ginamckay204