Clay Suddaby | CUPE Communications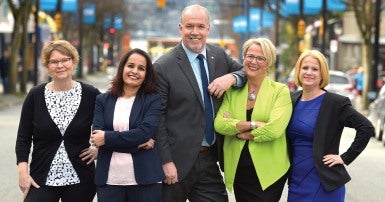 These are very exciting times in British Columbia as the NDP was victorious in ousting the BC Liberals. After 16 years of right-wing BC Liberal government, the NDP has formed a minority government led by Premier John Horgan, and supported by the three-member Green party caucus. The province has been infused with renewed hope for meaningful change.
Three of the MLAs in that government have strong CUPE ties. Lisa Beare, elected in Maple Ridge-Pitt Meadows, comes from the airline division and has served as vice-president of CUPE 4078. CUPE National Representative Rachna Singh was elected in Surrey-Green Timbers, and former CUPE National President Judy Darcy was re-elected in New Westminster.
In addition to those victories, five other sisters from the CUPE family ran as candidates for the BC NDP—CUPE members Tracey O'Hara, Sylvia Lindgren and Stephanie Goudie, along with HEU members Barb Nederpel and Natalie Fletcher. All five ran strong campaigns that helped the central campaign win government.
Election 2017 also saw the strongest member-to-member campaign in CUPE BC's provincial election history. With support from CUPE National, the Division engaged more members to volunteer on local constituency campaigns than in previous elections, leading to a significant CUPE presence in key ridings.
The new government is expected to bring in significant changes. It will establish a $10 per day child care plan, restore public education funding, increase the province's minimum wage to $15 per hour and is committed to having a referendum on electoral reform.