#VoteChildCare2015 is the message during the Week of Action for Child Care, happening right now until May 17. Today, in communities across the country, child care advocates took their message to the streets and sidewalks—literally.
Near work, homes, and government offices, supporters are Chalking it up for child care by drawing pictures and writing statements about how a national child care program would support all Canadians to work and raise children.
Find a Week of Action for Child Care event in your community at VoteChildCare.ca

Find out how much you'd save with $15-a-day child care
At CUPE national office in Ottawa, CUPE members and staff showed their creative side, drawing colourful pictures and messages for Canadian politicians.
Jamie Kass, co-chair of the CUPE national child care committee, said the event was meant to be a fun way to send an important message. "Public child care is good for the economy," said Kass. "It's good for families, it's good for Canada. The current patchwork of child care programs across the country doesn't work. High fees strain household budgets and keep many women out of the workforce."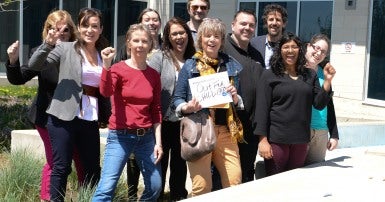 The federal Conservative government has offered tax breaks for parents that don't cover the high cost of child care for most parents. Plus, tax breaks don't create safe child care spaces, and they don't make it affordable. Liberals have offered a similar plan to the Conservatives. The NDP has promised child care that costs no more than $15 a day, and to develop a universal system in collaboration with provinces and territories.
CUPE's national political action committee was also meeting in Ottawa this week, and took time over lunch to Chalk it up too. Committee member and president of the Waterloo Regional Labour Council, Marc Xuereb noted the importance of this issue in 2015, an election year.
"Finding safe, affordable child care shouldn't be a matter of luck. It's a matter of priorities," said Xuereb. "A vote for child care in this federal election is about the kind of Canada we want, that we can be proud of. Countries that invest in building a child care system realize benefits for everyone."
Economists have noted that public child care actually pays for itself. The economy is expected to grow by two dollars for every dollar invested in public child care. Plus a public child care system would create four times more jobs than investing in the construction industry.
For more information: