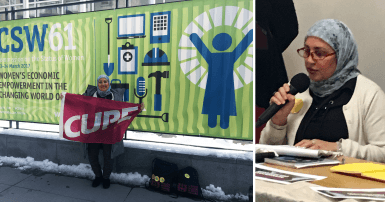 The United Nations Commission on the Status of Women had its 61st session last week and CUPE was in the house. Yasmeen Mirza, a member of CUPE's National Women's Committee, gave a presentation on the important role unions play in defending public services.
Yasmeen's presentation was part of a workshop called Labour of Love: Unions Advancing Women's Human rights that was organized by the Canadian Labour Congress. During the presentation, Yasmeen emphasized that public services are crucial to women, who are more likely to have low wages and live in poverty. Public services are also a source of good jobs for women. She spoke about CUPE's battle against privatization and contract-flipping in long-term care centres in Canada, where most workers are women, many of whom are racialized and/or immigrant women.
The Commission on the Status of Women is the principal global intergovernmental body exclusively dedicated to the promotion of gender equality and the empowerment of women. The commission is instrumental in promoting women's rights, documenting the reality of women's lives throughout the world, and shaping global standards on gender equality and the empowerment of women.