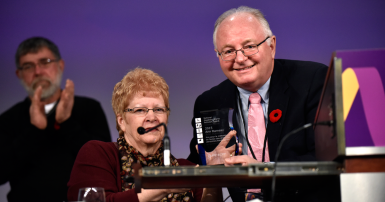 The accolades continue to roll in for Ann Ramsay, this year's Carol McGregor Award for Disability Rights Activism winner, presented by the Canadian Labour Congress. Ramsay also recently won CUPE's National Disability Rights Activism Award at the 2015 National Convention.
Ramsay has long been an active member of her local, CUPE 1770, representing PEI school board workers. Following a life-changing accident in 2009, Ramsay embraced the role of disability rights advocate, serving on her division's Equality Committee, CUPE's National Persons with Disabilities Committee and the CLC's Disability Rights Working Group. A strong advocate for Duty to Accommodate training, Ramsay has helped to organize workshops in her division on the topic.
Ramsay also builds links between labour and the broader disability community by serving on the board of the PEI Council of People with Disabilities, who gave her their Access Award in 2014, in recognition of her mentoring and volunteer efforts to benefit workers with disabilities.
When she accepted CUPE's award, Ramsay told convention delegates that she was "humbled and honoured," by the recognition. "But there are so many people who deserve a huge thanks for supporting my work advocating for disability rights in the workplace." She included former CUPE National President Paul Moist, CUPE PEI President Lori McKay, her CUPE national representative, coworkers and "most of all, all of you, CUPE members, who in your own locals support the work of disability rights advocates."
Congratulations Ann Ramsay!