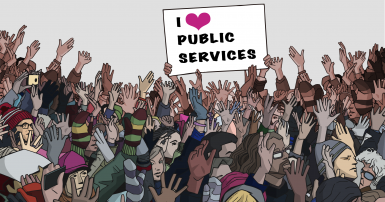 The United Nations recognizes Public Service Day on June 23. It is a global day for workers to celebrate and advocate for quality public services. The global trade union federation Public Services International (PSI) has adopted the day as part of its Quality Public Services Now! campaign. CUPE is a member of PSI.
Public services are powerful anti-poverty tools. Every day, CUPE members and public sector workers around the world are providing access to housing, child care, safe clean water, education, social services, health care and many other vital services that help build better, more equal, societies.
To mark the day this year, PSI is highlighting the work of the US‑based Poor People's Campaign, a grassroots movement that brings together workers, community and faith leaders, and other allies marking 50 years since the Rev. Dr. Martin Luther King, Jr. rallied more than 125,000 people in Detroit in a "Walk to Freedom" on June 23, 1963.
Through creative and direct action, the Poor People's Campaign aims to fight inequality by dismantling systems of oppression, and recognizes the impact of intersecting forms of discrimination. The campaign is wide-ranging, calling for racial, environmental, social and economic justice.
Demands include expanded worker's rights, strong public services that are available to everyone, fair taxation, a just transition to clean energy, and full democratic participation, recognizing that every person "has the right to dignified jobs and living wages, housing, education, health care, welfare, and the right to organize for the realization of these rights."
Canadian workers and community allies must confront many of the same barriers to solidarity, justice and equity that the Poor People's Campaign is targeting. CUPE's 2017-2019 Strategic Directions commits our union to defend and expand public services for all, challenge racism and discrimination in all its forms, strengthen labour-community coalitions, train our members to be effective campaigners, and mobilize for all workers' rights.
CUPE's action plan recognizes our members are our greatest strength, and focuses on building stronger, more inclusive locals that tap the full potential of our people power. United, we will make gains at the bargaining table that raise the bar for all workers.
CUPE celebrates our members, and the public services they provide, for the essential role they play in fighting inequality. On June 23, and every day.
Together, in solidarity, we will keep mobilizing for strong public services, justice for all, an end to discrimination and hate in all its forms, and for an end to poverty and inequality.
Add your voice: PSI is asking allies to take solidarity photos or video on June 23 and post or tweet using the hashtag #PoorPeoplesCampaign.