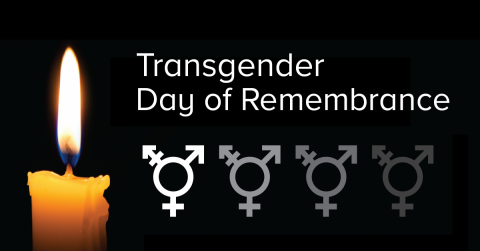 Dear Sisters and Brothers:
The Transgender Day of Remembrance is observed on November 20 around the world in memory of the transgender and transsexual persons who have been murdered out of fear or hatred. People who do not live their lives according to social expectations of their birth-assigned sex continue to be targets of shocking brutality. Trans people are also particularly vulnerable to harassment and exclusion on a daily basis, on and off the job.
Trans rights are human rights. Ending all forms of discrimination and violence is an important struggle, and as Canadian playwright Tomson Highway reminded us at our national convention, unions protect human dignity. CUPE has a proud history of standing up for trans rights and supporting transgender trailblazers in our workplaces and communities.
Audrey Gauthier, one of three trans representatives on the National Pink Triangle Committee, made history last November when she was elected president of CUPE 4041, representing Air Transat flight attendants based in Montréal. She became the first openly trans person elected president of a local in Canada.
City of Regina facilities maintenance worker Deidra Roberts helps raise public awareness by speaking out about her experience as a trans woman. In a recent interview with onmyplanet.ca she spoke frankly about the challenges of transitioning from male to female while still on the job. Sister Roberts is an active member of the union executive of CUPE 21.
There is still much work to be done so that transgender people can enjoy rights most of us take for granted.
In recent years efforts have been made to provide explicit legal protection for trans people by adding "gender identity" and "gender expression" to the list of prohibited grounds for discrimination in human rights laws. Newfoundland and Labrador, Prince Edward Island, Nova Scotia, and Ontario included both of these grounds, while Manitoba added "gender identity". Bill C-279 would add protection for "gender identity" to the Canadian Human Rights Code and the Criminal Code hate crime sentencing provisions but it is currently sitting in the Senate for review.
Other basic needs are still unmet. Medicare coverage for the treatments and surgery associated with gender reassignment is uneven across Canada. Getting name and gender changes on essential documents like birth certificates and passports is a hurdle for many trans people. Being able to use public washrooms without fear of verbal or physical attack is another everyday concern. Barriers still exist in accessing housing, employment, health and social services.
What can you and your local do to help ensure that trans people live and work in safety and dignity?
Learn more about trans issues and how to be an ally for equality. Invite a trans activist to speak to your local. Ask for

UDD

courses and equality presentations to be presented in your region. View the

CUPE

presentation on transphobic harassment and discrimination in employment and health care on the

CUPE

website, or check out the interview with Deidra Roberts at onmyplanet.ca.
Bargain language to specify that your no discrimination clause covers gender identity and gender expression, and negotiate paid leave for transitioning members.
Lobby for the inclusion of gender identity and gender expression in human rights and hate crime legislation.
Support community efforts to extend public funding to gender reassignment surgery and other health care services for trans people.
Participate in November 20 observances to memorialize the lives lost and to raise awareness about trans issues.
And don't forget to tell us about your actions to promote and defend trans rights. These acts of solidarity keep us strong and inspire others to join the struggle. 
In solidarity and pride,
Paul Moist
National President
Charles Fleury
National Secretary-Treasurer