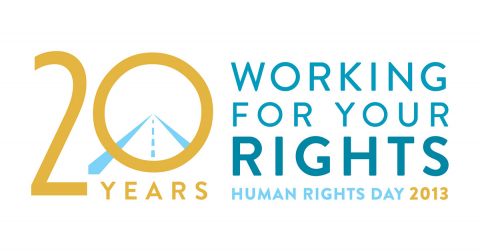 Dear Sisters and Brothers:
Following the events of World War II, and the continuing colonialism that was rife at the time, members of the United Nations drafted the Universal Declaration of Human Rights. The Declaration was then adopted by the UN General Assembly on December 10, 1948. It contains thirty articles on human rights that remain as strong today as they were over 65 years ago.
Each year, on the anniversary of the declaration, we observe International Human Rights Day. Events are held worldwide. Many focus on educating young people, to ensure they understand the meaning of human rights and the importance of upholding them in their own communities, schools and organizations.
Cultural events are also organized to celebrate the importance of human rights through music, dance, drama, and art. Some events also include protests to alert people to circumstances in parts of the world where the declaration is not being recognized or respected.
Many CUPE members across the country and workers everywhere continue to struggle daily to secure and promote human rights in their workplaces and in their communities by standing up and saying no to discrimination and exploitation. We share their vision to create a world in which the rights and freedoms of the declaration can be fully realized for everyone.
Sadly we continue to see persistence in our government's practices that violate fundamental human rights when it comes to recognizingforeign professional credentials or the previous experience of workers who are new to Canada, and from countries outside of Europe. This and other barriers to entry mean many racialized workers come to Canada through the Temporary Foreign Workers (TFW) Program, which creates even greater problems.
The TFW program denies rights to foreign workers, most of whom are racialized. Migrant workers' rights groups have emphasized that free trade, economic liberalization, privatization, and deregulation have forced many workers to migrate under extremely exploitative systems. These workers have limited protections and restricted access to social programs.
Even when these workers are represented by a union, their collective agreement rights are limited by the individual contracts associated with their work permit. Workers who are laid off are excluded from accessing EI even though they pay into the program.Most temporary foreign workers in Canada do not have access to immigration and citizenship opportunities.
All workers in Canada, including immigrants, refugees and migrant workers, must be treated fairly and equally independent of political considerations. Fair treatment must include access to health care, social services, education, labour, human rights, employment, and citizenship.
We must continue to challenge regressive government actions. CUPE calls on all its members to embrace diversity, end discrimination, and make our government accountable for their violations and attacks on basic human rights.
For more information on the Conservative government's Temporary Foreign Workers Program, read CUPE's fact sheet at cupe.ca/research. Information on CUPE's other equality initiatives can be found at cupe.ca/equality.
In solidarity,
Paul Moist
National President
Charles Fleury
National Secretary-Treasurer