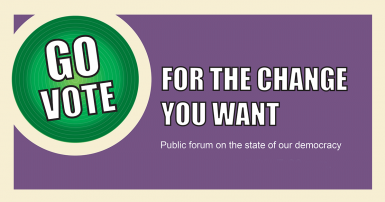 The past nine years have been tough on Canadian workers. With a weak economy and stagnant wages, Canadians are having a hard time making ends meet. Families can't find affordable child care. Our public health care system is coming a part at the seams. Millions of seniors are at risk of poverty. Our country has had no federal leadership on protecting our environment.
It's time for a change.
In the lead up to the upcoming federal election, CUPE is joining the Council of Canadians for a series of town halls on what Canadians can do to get the change they want.
"Canadians want better from their federal government. By working together in our communities, talking with our families and neighbours about the change we want, we can choose the government we deserve," says Paul Moist, national president of CUPE, who will be speaking at several of the town halls, along with other labour and social justice activists.
"Indigenous peoples, workers from the public and private sectors, veterans, seniors and young people – people from all walks of life across the country are looking for change. These town halls will be our chance to start working together to make sure we are heard at the ballot box," says Moist.
The town halls, being held across Canada over the next three months, will be followed by workshops and training on increasing voter turn-out though door-to-door canvassing and community-based organizing.
"This federal election will be pivotal for future generations of Canadians. If we don't act now, our environment will continue to be neglected, our public services will continue to be slashed, our civil liberties and freedoms will be even more compromised," says Moist. "This is our time to start repairing the damage done over the past nine years. Together we can do it."
For more information on the town halls click here.
Paul Moist will be speaking at town halls in:
Vancouver, British Columbia
Thursday, April 30, 7:00 p.m.
Vancouver Public Library, 350 West Georgia St.
Winnipeg, Manitoba
Tuesday, May 12, 7:00 p.m.
Indian & Metis Friendship Centre, 45 Robinson St.
Saskatoon, Saskatchewan
May 13 (more details to come)
Bridgewater, Nova Scotia
May 19 (more details to come)
Toronto, Ontario
June 18 (more details to come)