As part of CUPE's Year of Health and Safety, each month a new profile will be published on cupe.ca highlighting the work of CUPE's health and safety activists, celebrating health and safety victories and discussing health and safety resources available to members and locals. More information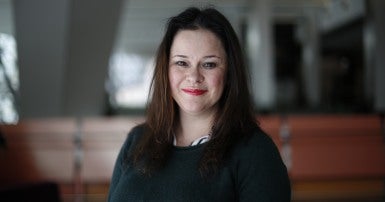 Tanya Paterson, a CUPE health and safety advocate from the airline sector, talks about the struggles of bargaining health and safety language into collective agreements: "We have been working at the bargaining table for many months and are prioritizing health and safety language this round."
"We need to put the health and safety language in collective agreements to inform members about their rights, as they have more access and are more likely to talk to each other about their collective agreement. We need to ensure our health and safety rights are protected and can't be taken away by governments, much like the recent changes to crew complement onboard, and to the right to refuse that we saw back in 2013 from the previous federal government."
As President of CUPE 4078 (employees of Air Transat Vancouver), Paterson sees the importance of achieving health and safety improvements at the bargaining table. "There are many issues that the airline division has been fighting for many years."
This round, the Air Transat Component focused on pushing back against employer cutbacks and maintaining the flight attendant ratios onboard.  "We know that fewer flight attendants means both less safety for our passengers, but also a lower level of service, so we really focused on holding the line to the 1:40 ratio." They also worked on better mental health protection for flight attendants. "Across the entire airline division we need longer rest periods following a critical incident so that flight attendants have the time they need to cope, and deal with the issue at hand so that they don't develop PTSD, or other types of mental health issues," explained Paterson.
There are other systemic issues around the ability of health and safety committees in the airline sector to participate in legislative health and safety processes. Paterson notes that across the industry, "We are very limited in the work we can do because we don't have the time [while working] to do it. It is very frustrating because, unlike other sectors, flight attendants can't just be pulled away from their duties to perform the functions of the committees. We need a separate process for book-off and release time. We also need to get the committee structure formalized in the collective agreement to further define the roles of the workplace and policy health and safety committees so they can effectively function."
CUPE health and safety activists don't just work for the benefit of CUPE members—they also create safer environments for the public. For example, members of the airline division, like Paterson, continue to fight to have federal legislation reverted back to the proven-safer ratio of one flight attendant per 40 passengers. Paterson and other CUPE members have also worked hard to obtain provisions for basic personal protective equipment and safer, more efficient ergonomic equipment on airplanes.
As a flight attendant for Air Transat, Paterson is one of approximately 9,500 members from CUPE's airline division who works every day to keep us safe while flying. In addition to being president of her local, Paterson is a Regional Vice President on the CUPE BC executive board, Co-Chair of the Airline Division's Political Action committee, and a member of the National Political Action committee.
In her local, and within the Air Transat Component of CUPE, Paterson continues to work with the health and safety policy committee. She remembers how she got her start with the local: "Health and safety is where I really got my passion for union work. It felt great to be a health and safety rep after I was asked to join the committee by the local president at the time."
"Of course we need to fight for legislation that promotes fair, equitable and safe working conditions, but we are never sure if the government is going to deliver on its promises. We've been fighting for the last 10 years just to keep what we have, and have not been able to acquire more. With the new government, we hope that reductions to health and safety of the last government will be repealed, improvements will be made, and that workplace health and safety as a whole will be prioritized."