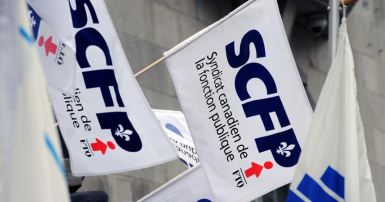 CUPE-Quebec Employees continue to grow despite the ups and downs caused by the pandemic. This summer alone, more than 30 new groups chose to join CUPE.
In the municipal sector, employees with the Municipality of Verchères, outside workers in the Town of Granby and inside workers and crossing guards with the Town of Saint-Augustin enthusiastically joined CUPE, the largest union in Canada, which has more than 700,000 members.
Also notable is that CUPE has increased its presence considerably among fire fighters with the arrival of close to 20 groups resulting from the decision the Syndicat des pompiers et pompières du Québec to come on board along with five new groups that had not been unionized previously or were independent.
In the energy sector, 65 on-site nurses employed by Hydro-Québec also joined CUPE to improve their working conditions.
In addition, CUPE made some inroads into the legal sector by welcoming to its ranks 200 workers from Aide juridique (Legal Aid) in Montreal, Laval and the Laurentians.
According to Mathieu Dumont, an organizing coordinator with the CUPE, "CUPE's expertise in labour circles is well recognized. It is no coincidence that we are able to boost our membership year after year."