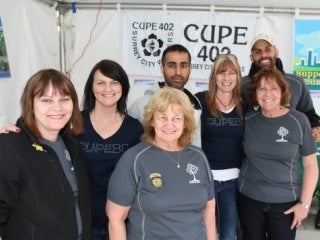 CUPE is celebrating workplace environmental actions for 2015 with its Earth Day contest. The idea is simple: nominate your CUPE Local because it's doing good things for the environment and your Local could win cool CUPE environmental swag.
Contest deadline is May 31, 2015.
Does your CUPE workplace encourage green practices like using public transit?
Recycling at work?
Does it support workplace environmental committees or push for green practices at bargaining or in the community?
If so, your Local could be a winner in 2015. See the newsletter for full details and good luck!
Photo: CUPE local 402 won the Earth Day Greenest Workplace Contest in 2014. Read the story here.
​